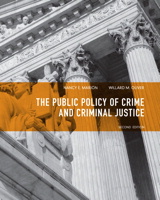 Description
For courses in Criminal Justice Policy, Special Topics, Politics of Criminal Justice, etc.
This book explains the public policy process and applies it directly to crime and criminal justice. Written by scholars in the field of criminal justice, with backgrounds in political science and public policy, the book presents a solid understanding of public policy and then describes each of the various actors in the public policy process at the federal, state and local level. This edition includes an enhanced focus on state and local issues, updated research and illustrations that reflect the Obama administration. Finally, it closes with a real-world case study that illustrates how policy and politics impact criminal justice.
Table of Contents
PART I: THE CRIMINAL JUSTICE POLICY PROCESS
1. Criminal Justice and Public Policy
2. Criminal Justice Ideology
3. The Criminal Justice Policy Process
PART II: THE CRIMINAL JUSTICE POLICY ACTORS
4. Executive branches
5. Legislative Branches
6. Judiciary
7. Bureaucracies
8. Public Opinion and the Media
9. Interest Groups
PART III: THE CRIMINAL JUSTICE SYSTEM
10. The Police
11. Courts
12. Corrections
13. Juvenile Justice
PART IV: CRIMINAL JUSTICE POLICY
14. Criminal Justice Policy: A Case Study
Purchase Info ?
With CourseSmart eTextbooks and eResources, you save up to 60% off the price of new print textbooks, and can switch between studying online or offline to suit your needs.
Once you have purchased your eTextbooks and added them to your CourseSmart bookshelf, you can access them anytime, anywhere.
Buy Access
Public Policy of Crime and Criminal Justice, CourseSmart eTextbook, 2nd Edition
Format: Safari Book
$54.99 | ISBN-13: 978-0-13-801386-8