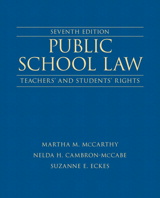 Description
With this seventh edition of Public School Law: Teachers' and Students' Rights, renowned authors Martha M. McCarthy, Nelda H. Cambron-McCabe, Suzanne E. Eckes, have proven once again that their mainstay for school law can't be touched by the competition. In a masterful blend of detailed treatment of landmark cases with a thorough discussion of the legal context, trends, and generalizations to guide all school personnel in their daily activities, the book addresses legal principles applicable to practitioners in a succinct but comprehensive manner. Information in this text will help alleviate concerns voiced by educators who either do not know the legal concepts that govern schools or feel that the scales of justice have been tipped against them. Primarily written for school administrators and teachers to learn the most important points of the cases and how the cases will impact their practices, this new edition covers a wider range of legal topics, takes a much more in-depth approach to discussing the cases presented, and cites many more current cases that are relevant to practitioners than any other school law textbook in comparison.
New to this edition, besides being thoroughly updated and revised throughout, are the most current new laws, policies, and judicial decisions; more than 400 new cases from previous editions, with all content as current and well-documented as of July, 2012; new information on cyber-bullying, sexting; legal controversies involving charter schools; and the Common Core State Standards Web sites with current data on a range of topics from voucher programs and home education to curriculum requirements; the latest on the American with Disabilities Act amendments of 2008, amendments to the regulations for Title IX of the Education Amendments of 1972, the Family Educational Rights and Privacy Act, and the Lilly Ledbetter Act; race-conscious student assignment plans, and the use of seclusion and restraints with students with disabilities with new information regarding guidelines from the U.S. Department of Justice and the U.S. Department of Education.; and the most current legal information regarding protections for gay, lesbian, bisexual, and transgender students; permissible religious activities in public schools; and student searches, including strip searches and cell phone searches.
For law students, it is primarily written for teachers, school administrators, and other public school personnel taking a school law course at the graduate and master's levels, there is not a greater, more comprehensive resource on the market today than Public School Law, Seventh Edition.
Table of Contents
Contents
Preface xii
1 Legal Framework of Public Education
State Control of Education
State Legislation
State Administrative Agencies
Local School Boards
Federal Role in Education
United States Constitution
Constitutional Amendments that Relate to School Law
Federal Legislation
Federal Administrative Agencies
Function and Structure of the Judicial System
Filing a Case
States Courts
Federal Courts
Judicial Trends
Conclusion
2 Church/State Relations
Constitutional Framework
Religious Influences in Public Schools
Silent Prayer Statutes
School-Sponsored versus Private Devotionals
Religious Displays, Music, and Holiday Observances
Proselytization in the Classroom
Equal Access for Religious Expression and Groups
Accommodations for Religious Beliefs
Release-Time Programs
Religious Absences
Religious Exemptions from Secular Activities
Religious Challenges to the Secular Curriculum
The Origin of Humanity
Other Challenges
State Aid to Private Schools
Aid for Student Services
Aid to Encourage Educational Choice
Conclusion
3 School Attendance and Instructional Issues
Compulsory School Attendance
Alternatives to Traditional Public Schooling
Health Requirements
Residency Requirements
School Fees
Transportation
Textbooks, Courses, and Materials
The School Curriculum
Requirements and Restrictions
Censorship of Instructional Materials
Student Proficiency Testing
Educational Malpractice/Instructional Negligence
Instructional Privacy Rights
Student Records
Pupil Protection and Parental Rights Laws
Conclusion
4 Students' Rights in Noninstructional Matters
Freedom of Speech and Press
Legal Principles
School-Sponsored Expression
Threats
Prior Restraints Versus Punishment After the Fact
Anti-Harassment and Anti-Bullying Policies
Electronic Expression
Time, Place, and Manner Regulations
Future Directions
Student-Initiated Clubs
Student Appearance
Hairstyle
Attire
Extracurricular Activities
Recruitment and Eligibility
Training Regulations and Other Conditions on Participation
Fees for Participation
Conclusion
5 Student Classifications
Legal Context
Classifications Based on Race
Pre-Brown Litigation
De Jure Segregation in the South
Distinguishing between De Jure and De Facto Segregation
Fashioning Appropriate Remedies
Achieving Unitary Status
Postunitary Transfer and School Assignment
Race as a Factor in Admission to Private Schools
Race Discrimination and Matriculated Students
Classifications Based on Native Language
Classifications Based on Ability or Achievement
Tracking Schemes
Gifted and Talented Students
Classifications Based on Age
Classifications Based on Sex
Interscholastic Sports
Academic Programs
Sexual Harassment of Students
Marriage and Pregnancy
Conclusion
6 Rights of Students with Disabilities
Legal Context
Rehabilitation Act
Americans with Disabilities Act
Individuals with Disabilities Education Act
Individualized Education Programs
Initial Identification
Evaluation
IEP Team
IEP Preparation
Free Appropriate Public Education
Least Restrictive Environment
Private Schools
Related Services
Transportation
Psychological Services
Health and Nursing Services
Extended School Year
Participation in Sports
Discipline
Suspension
Expulsion
Procedural Safeguards
Stay-Put Provision
Informal Meeting
Mediation
Impartial Due Process Hearing
State Review
Civil Action
Remedies and Attorneys' Fees
Conclusion
7 Student Discipline
Conduct Regulations
Expulsions and Suspensions
Expulsions
Suspensions
Corporal Punishment
Constitutional Issues
State Law
Academic Sanctions
Absences
Misconduct
Search and Seizure
Lockers
Search of Personal Possessions
Personal Search of Students
Metal Detectors
Drug-Detecting Canines
Drug Testing
Police Involvement
Remedies for Unlawful Disciplinary Actions
Conclusion
8 Terms and Conditions of Employment
Licensure or Certification
Employment by Local School Boards
Employment Requirements
Assignment of Personnel and Duties
Contracts
Term and Tenure Contracts
Supplemental Contracts
Domestic Partner Benefits
Leaves of Absence
Personnel Evaluation
Personnel Records
Other Employment Issues
Using Copyrighted Materials
Reporting Suspected Child Abuse
Conclusion
9 Teachers' Substantive Constitutional Rights
Freedom of Expression
Legal Principles
Application of the Legal Principles
Prior Restraint and Channel Rules
Expressing Personal Views in the Classroom
Academic Freedom
Course Content
Teaching Strategies
Freedom of Association
Political Affiliations
Political Activity
Personal Appearance
Constitutional Privacy Rights
Search and Seizure
Out-of-School Conduct
Conclusion
10 Discrimination in Employment
Legal Context
Fourteenth Amendment
Title VII
Race and National-Origin Discrimination
Hiring and Promotion Practices
Adverse Decisions
Affirmative Action
Sex Discrimination
Hiring and Promotion Practices
Compensation Practices
Termination, Nonrenewal, and Denial of Tenure
Sexual Harassment
Pregnancy Discrimination
Retirement Benefits
Sexual-Preference Discrimination
Access to Benefits
Harassment
Adverse Employment Decisions
Religious Discrimination
Hiring and Promotion Practices
Accommodation
Adverse Employment Decisions
Age Discrimination
Hiring and Promotion Practices
Compensation and Benefits
Adverse Employment Actions
Retaliation
Retirement
Disability Discrimination
Qualifying as Disabled
Otherwise Qualified
Reasonable Accommodation
Termination and Nonrenewal
Conclusion
11 Termination of Employment
Procedural Due Process in General
Dismissal
Nonrenewal
Establishing Protected Property and Liberty Interests
Procedural Requirements in Discharge Proceedings
Notice
Hearing
Dismissal for Cause
Incompetency
Immorality
Insubordination
Neglect of Duty
Unprofessional Conduct
Other Good and Just Cause
Reduction-in-Force
Remedies for Violations of Protected Rights
Liability of School Officials
Liability of School Districts
Remedies
Conclusion
12 Labor Relations
Employees' Bargaining Rights in the Private and Public Sectors
Teachers' Statutory Bargaining Rights
Scope of Negotiations
Governmental Policy
Selected Bargaining Subjects
Union Security Provisions
Dues and Service Fees
Exclusive Privileges
Grievances
Negotiation Impasse
Strikes
Conclusion
13 Tort Liability
Negligence
Duty
Breach of Duty/Standard of Care
Proximate Cause
Injury
Defenses against Negligence
Intentional Torts
Assault and Battery
False Imprisonment
Intentional Infliction of Mental Distress
Defamation
Private and Public Persons
Veracity of Statements
Fact versus Opinion
Privilege
Damages
Conclusion
14 Summary of Legal Generalizations
Generalizations
Conclusion
Glossary
Selected Supreme Court Decisions
Index
Purchase Info
Digital Choices ?
MyLab & Mastering with Pearson eText is a complete digital substitute for a print value pack at a lower price.
eTextbook ?
With VitalSource eTextbooks, you save up to 60% off the price of new print textbooks, and can switch between studying online or offline to suit your needs.
Access your course materials on iPad, Android and Kindle devices with VitalSource Bookshelf, the textbook e-reader that helps you read, study and learn brilliantly. Features include:
See all of your eTextbooks at a glance and access them instantly anywhere, anytime from your Bookshelf - no backpack required.
Multiple ways to move between pages and sections including linked Table of Contents and Search make navigating eTextbooks a snap.
Highlight text with one click in your choice of colors. Add notes to highlighted passages. Even subscribe to your classmates' and instructors' highlights and notes to view in your book.
Scale images and text to any size with multi-level zoom without losing page clarity. Customize your page display and reading experience to create a personal learning experience that best suits you.
Print only the pages you need within limits set by publisher
Supports course materials that include rich media and interactivity like videos and quizzes
Easily copy/paste text passages for homework and papers
Supports assistive technologies for accessibility by vision and hearing impaired users