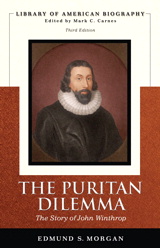 Description
Caught between the ideals of God's Law and the practical needs of the people, John Winthrop walked a line few could tread.
In every aspect of our society today we see the workings of the tension between individual freedom and the demands of authority. Here is the story of the people that brought this idea to our shores: the Puritans. Edmund Morgan relates the hardships and triumphs of the Puritan movement through this vivid account of its most influential leader, John Winthrop.
The titles in the Library of American Biography Series make ideal supplements for American History Survey courses or other courses in American history where figures in history are explored. Paperback, brief, and inexpensive, each interpretive biography in this series focuses on a figure whose actions and ideas significantly influenced the course of American history and national life. In addition, each biography relates the life of its subject to the broader themes and developments of the times.
Table of Contents
Editor's Preface
Author's Preface
Chapter 1: The Taming of the Heart
Chapter 2: Evil and Declining Times
Chapter 3: A Shelter and a Hiding Place
Chapter 4: The Way to a New England
Chapter 5: Survival
Chapter 6: A Special Commission
Chapter 7: A Due Form of Government
Chapter 8: Leniency Rebuked
Chapter 9: Separatism Unleashed
Chapter 10: Seventeenth-Century Nihilism
Chapter 11: The New England Way
Chapter 12: New England or Old
Chapter 13: Foreign Affairs
Study and Discussion Questions
A Note on the Sources
Index
Additional Course Materials
This title is also sold in the various packages listed below. Before purchasing one of these packages, speak with your professor about which one will help you be successful in your course.
Package ISBN-13: 9780205851997
Includes this title packaged with:
James Polk and The Expansionist Impulse (Library of American Biography Series), 3rd Edition
Sam W. Haynes
$40.00 $38.00 | Add to Cart