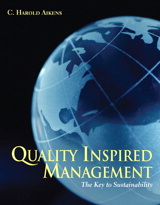 Description
For first courses and two-course sequences in quality management, including undergraduate courses in industrial engineering, engineering technology, or business programs; as well as courses in MBA or engineering management graduate curricula.
This unique book presents a comprehensive, systems view of quality, emphasizing the importance of satisfying all stakeholders, not just customers or investors. It offers an innovative framework for considering key issues such as green/environmental business, HR/employee needs, community/civic obligations, ethics, customer-centricity, and the growth of services. It bridges the gap between broad issues such as strategy, organization, and human factors, and the focused need for hard statistical data. Organized for maximum readability and instructional flexibility, it can be used with diverse syllabi and audiences, enabling students to contribute in roles ranging from manager to Six Sigma team leader.
Table of Contents
Part I: QUALITY FROM 30,000 FEET
1: Quality Overview
2: Quality as a Strategic Imperative in the Information Age
3: People: The Most Valuable Asset
Part II: QUALITY FROM 5,000 FEET
4: Specifications and Production Implications
5: Quality of Design
6: System Maintenance and Reliability
Part III: QUALITY AT SEA LEVEL
7: Understanding Process Behavior — The Problem-solving Toolkit
8: Statistical Process Control By Variables Measures
9: Issues Relevant to Statistical Process Control By Variables
10: Statistical Process Control By Attributes
11: Process Control in Lean Production Environments
12: Control of Processes in Service Industries
Part IV: QUALITY BELOW THE SURFACE
13: Using ANOVA and DOE to Determine What Makes a Process Tick
14: Continuous Improvement: Pursuit of Six Sigma Quality
Appendices A-G
Purchase Info ?
With CourseSmart eTextbooks and eResources, you save up to 60% off the price of new print textbooks, and can switch between studying online or offline to suit your needs.
Once you have purchased your eTextbooks and added them to your CourseSmart bookshelf, you can access them anytime, anywhere.
Buy Access
Quality Inspired Management: The Key to Sustainability, CourseSmart eTextbook
Format: Safari Book
$58.99 | ISBN-13: 978-0-13-705718-4