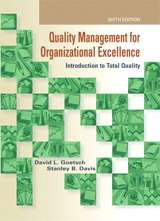 Description
For undergraduate courses in Quality Management or Total Quality Management; also relevant for students studying technology, engineering, or business.
This textbook features a straightforward, practical look at applying the theories and principles of total quality in the real world. Current and comprehensive, it covers every aspect of total quality -- including several that receive little or no attention in other total quality books — helping students understand that in order to compete in the global arena, businesses must achieve consistent peak performance, continual improvement, and maximum competitiveness. The sixth edition has been updated to include coverage of Lean and Lean Six Sigma.
Key topics covered include global competitiveness; strategic management; ethics and corporate social responsibility; partnering and strategic alliances; quality culture; customer satisfaction and retention; employee empowerment; leadership; teamwork; communication; education and training; overcoming negativity; the ISO 9000 quality management system; tools and techniques; and implementing total quality management. The text is an excellent handbook for quality managers, directors of quality control, and vice-presidents of quality management.
Table of Contents
Part I — Philosophy and Concepts
Chapter 1: The Total Quality Approach to Quality Management
Chapter 2: Quality and Global Competitiveness
Chapter 3: Strategic Management: Planning and Execution for Competitive Advantage
Chapter 4: Quality Management, Ethics, and Corporate Social Responsibility
Chapter 5: Partnering and Strategic Alliances
Chapter 6: Quality Culture: Changing Hearts, Minds, and Attitudes
Chapter 7: Customer Satisfaction, Retention, and Loyalty
Chapter 8: Employee Empowerment
Chapter 9: Leadership and Change
Chapter 10: Team Building and Teamwork
Chapter 11: Effective Communication
Chapter 12: Education and Training
Chapter 13: Overcoming Politics, Negativity, and Conflict in the Workplace
Chapter 14: ISO 9000 and Total Quality: The Relationship
Part II — Tools and Techniques
Chapter 15: Overview of Total Quality Tools
Chapter 16: Problem Solving and Decision Making
Chapter 17: Quality Function Deployment (QFD)
Chapter 18: Optimizing and Controlling Processes Through Statistical Process Control (SPC)
Chapter 19: Continual Improvement Methods with Six Sigma, Lean, and Lean Six Sigma
Chapter 20: Benchmarking
Chapter 21: Just-in-Time Manufacturing (JIT)
Chapter 22: Implementing Total Quality Management