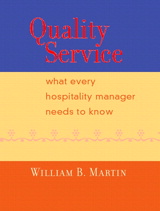 Table of Contents


1. What Quality Service Is and What You Can Do about It.


2. Customer Expectations: The Procedural Side.


3. Customer Expectations: The Personal Side.


4. Creating a Quality Service Culture and Supportive Leadership Climate.


5. Defining What Quality Service Is for You.


6. Weaving Quality Service into Your Operation.


7. Assessing Progress and Rewarding Successes.


8. Maintaining Quality Service with Continuous Quality Improvement.