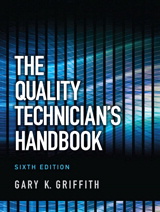 Description
For all courses in Quality Control, Quality Assurance, and Inspection serving operators, machinists, inspectors, quality technicians, associate quality engineers, and other manufacturing and purchasing personnel; and for ASQ Certification Courses (e.g., Certified Quality Technician and Certified Mechanical Inspector).
An ASQ best-seller, this text covers the core skills that contribute to ongoing quality at the technician level. More comprehensive than competitive texts, it breaks down technical topics into easy-to-follow directions, many of them presented with step-by-step instructions and intuitive visuals. Coverage includes: quality basics, TQM, costs, audits, inspections, drawings, dimensioning, tolerancing, graphical inspection analysis, measurements, surface plate inspection, lot-by-lot acceptance sampling with current ANSI/ASQC standards, SPC, shop mathematics, and more. This edition presents many new and revised review questions, contains answers to odd-numbered questions, adds new coverage of Failure Modes and Effects Analysis (FMEA), and offers updated coverage of other topics, including Geometric Tolerancing.
Table of Contents
1. Introduction to Quality
2. Total Quality Management
3. Quality Costs
4. Quality Audits
5. Inspection Systems and Planning
6. Reading Engineering Drawings
7. Geometric Dimensioning and Tolerancing
8. Graphical Inspection Analysis
9. Common Measuring Tools and Measurements
10. Surface Plate Inspection Methods
11. Special Measuring Equipment and Techniques
12. Lot-by-Lot Acceptance Sampling Plans
13. Statistical Process Control
14. Shop Mathematics
Glossary A. Quality Terms and Definitions
Glossary B. Various Manufacturing Processes
Glossary C. Terms Used in Reliability
Glossary D. Overview of Nondestructive Evaluation Methods
Glossary E. Answers to Odd-Numbered Chapter Review Questions
Bibliography
Appendix Tables
Subject Index
Formulas Index
Purchase Info ?
With CourseSmart eTextbooks and eResources, you save up to 60% off the price of new print textbooks, and can switch between studying online or offline to suit your needs.
Once you have purchased your eTextbooks and added them to your CourseSmart bookshelf, you can access them anytime, anywhere.
Buy Access
Quality Technician's Handbook, The, CourseSmart eTextbook, 6th Edition
Format: Safari Book
$67.99 | ISBN-13: 978-0-13-262138-0