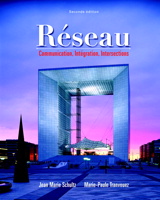 Description
After the highly successful launch of this popular, college-level intermediate French program, the Second Edition of Réseau: Communication, Intégration, Intersections expands upon the features that have made it so popular in two- and four-year colleges and universities around the world. Reseau conceives of the teaching of French as a holistic endeavor, not only in terms of language skills—speaking, listening, reading, and writing—but also in terms of cultural knowledge in the broadest sense. Based on the belief that knowledge of a second language and culture necessarily brings about a greater understanding not only of the world in an increasingly global context, but also of the individual self, the content and activities in Reseau offer students the opportunity to reflect on the differences between their own and French and Francophone cultures and experiment with the new identities that so many researchers suggest language learning can encourage.
0205949231 / 9780205949236 Réseau with MyFrenchLab (multi semester access) -- Access Card Package
Package consists of:
0205932614 / 9780205932610 Réseau: Communication, Intégration, Intersections
0205934358 / 9780205934355 MyFrenchLab with Pearson eText -- Access Card -- for Réseau: Communication, Intégration, Intersections (multi semester Access)
Table of Contents
BRIEF CONTENTS
1. Les relations familiales
2. Masculin/féminin : rôles
3. La vie urbaine
4. Politique, indépendance: identité française, identité acadienne et québécoise
5. La France : un kaléidoscope social
6. La France : icônes culturelles
7. La France bigarrée —un pays métissé et multiculturel
8. La Francophonie
9. Intersections esthétiques : architecture, peinture, sculpture
10. Regard sur la France : le septième art ou le cinéma
11. La France vue d'ailleurs
12. La France et l'Europe
Enhance your learning experience with text-specific study materials.
These online resources are available at no cost.
Companion Website for Reseau: Communication, Integration, Intersections, 2nd Edition