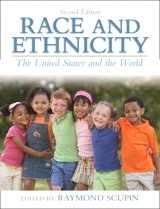 Description
The second edition of Race and Ethnicity: The United States and the World continues its legacy as an introductory survey text covering the basic concepts and research of theoretical issues and empirical studies of race and ethnicity in the U.S. and throughout the world.
Through state of the art chapters, Dr. Scupin introduces the concepts of race, the fallacies of scientific racism, and theoretical perspectives on ethnicity — followed by fourteen chapters that detail the empirical findings of anthropologists on race and ethnicity in the U.S. and the world.
Note: MySearchLab does not come automatically packaged with this text. To purchase MySearchLab, please visit: www.mysearchlab.com or you can purchase a valuepack of the text +MySearchLab (at no additional cost).
Table of Contents
BRIEF TABLE OF CONTENTS:
Part I: The Anthropology of Race and Ethnicity
Chapter 1: The Anthropology of Race and Ethnicity, Raymond Scupin
Chapter 2: The Concept of Race in Anthropology, Scott MacEachern
Chapter 3: A History of "Scientific" Racialism, Leonard Liebermanand Raymond Scupin
Chapter 4: Ethnicity, Raymond Scupin
Chapter 5: Ethnicity and Ethnocentrism: Are They Natural?, Donald E. Brown
Part II: The Anthropology of Race and Ethnicity in the U.S.
Chapter 6: U.S. Ethnic Relations: Anglos and the "White Ethnics," Raymond Scupin
Chapter 7: American Indians, Rachel Bonney and Raymond Scupin
Chapter 8: African Americans, Susan Love Brown
Chapter 9: Jewish Americans, Jack Glazier
Chapter 10: Hispanic/Latino Americans, Ellen Bigler
Chapter 11: Asian Americans, Janet Benson
Chapter 12: Arab Americans, Barbara Aswadand Thomas Abowd
Part III: Race and Ethnicity: A Global Focus
Chapter 13: Latin America and the Caribbean, Ronald Kephart
Chapter 14: Africa, Sheila Clarke-Ekong
Chapter 15: The Middle East, Laurie King-Irani
Chapter 16: Asia, Raymond Scupin
Chapter 17: Europe, Pamela Ballinger
Chapter 18: Canada, Norman Buchignani
Chapter 19: Conclusion, Raymond Scupin
Purchase Info
ISBN-10: 0-205-06447-7
ISBN-13: 978-0-205-06447-2
Format: Alternate Binding
$125.40
We're temporarily out of stock, but order now and we'll send it to you later.
Back Order
Digital Choices ?
MyLab & Mastering with Pearson eText is a complete digital substitute for a print value pack at a lower price.
MyLab & Mastering ?
MyLab & Mastering products deliver customizable content and highly personalized study paths, responsive learning tools, and real-time evaluation and diagnostics. MyLab & Mastering products help move students toward the moment that matters most—the moment of true understanding and learning.
eTextbook ?
With CourseSmart eTextbooks and eResources, you save up to 60% off the price of new print textbooks, and can switch between studying online or offline to suit your needs.
Once you have purchased your eTextbooks and added them to your CourseSmart bookshelf, you can access them anytime, anywhere.