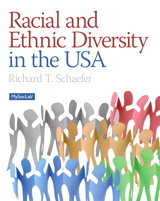 Description
Helps students understand and analyze race and ethnic issues
Racial and Ethnic Diversity in the USA applies contemporary theories to race and ethnic relations. The text explores issues inherent in race and ethnicity and then applies these issues to the four largest minority ethnic groups in the U.S. This foundation will enable readers to discuss how diversity will change in the future.
MySocLab is an integral part of the Schaefer program. Engaging activities and assessments provide a teaching and learning system that helps students discover sociology in their lives. With MySocLab, students can watch videos on sociological core concepts, explore real-world sociology through the new Social Explorer, and develop critical thinking skills through writing.
This learning program is available in a variety of formats and prices — digital and print. Pearson offers its titles on the devices students love through Pearson's MyLab products, CourseSmart, Amazon, and more. To learn more about our programs, pricing options and customization.
Purchase Info
Digital Choices
MyLab & Mastering ?
MyLab & Mastering products deliver customizable content and highly personalized study paths, responsive learning tools, and real-time evaluation and diagnostics. MyLab & Mastering products help move students toward the moment that matters most—the moment of true understanding and learning.
eTextbook ?
With CourseSmart eTextbooks and eResources, you save up to 60% off the price of new print textbooks, and can switch between studying online or offline to suit your needs.
Once you have purchased your eTextbooks and added them to your CourseSmart bookshelf, you can access them anytime, anywhere.
Print Choices
Loose Leaf Version ?
Books a la Carte are less-expensive, loose-leaf versions of the same textbook.