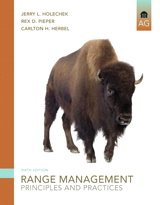 Description
For introductory Range Management courses.
This up-to-date, easy-to-read text brings together the key principles and practices of contemporary range management, presenting them in logical sequence as concisely and efficiently as possible. The authors introduce the fundamentals of range management using current and relevant scientific studies and practical examples, and illustrating key concepts with pictures, figures, and tables. Grazing management is emphasized, and several other aspects of range management are given comprehensive coverage. In particular, this edition has been updated with comprehensive information on highly relevant issues such as range animal behavior, economics, energy, and multiple use environments.
Table of Contents
Preface
Conversion from a Metric Unit to the English Equivalent
Chapter 1 Rangeland and Man
Chapter 2 Range Management History
Chapter 3 Rangeland Physical Characteristics
Chapter 4 Description of Rangeland Types
Chapter 5 Range Plant Physiology
Chapter 6 Range Ecology
Chapter 7 Range Inventory and Monitoring
Chapter 8 Considerations Concerning Stocking Rate
Chapter 9 Selection of Grazing Methods
Chapter 10 Methods of Improving Livestock Distribution
Chapter 11 Range Animal Nutrition
Chapter 12 Range Management for Multiple Use
Chapter 13 Range Livestock Production
Chapter 14 Range Wildlife Management
Chapter 15 Manipulation of Range Vegetation
Chapter 16 Range Management in Developing Countries
Chapter 17 Rangeland Economics
Chapter 18 Range Management Planning, Computers, and the Future
Glossary
Answers to Study Questions and Definitions
Literature Cited
Index
Purchase Info ?
With CourseSmart eTextbooks and eResources, you save up to 60% off the price of new print textbooks, and can switch between studying online or offline to suit your needs.
Once you have purchased your eTextbooks and added them to your CourseSmart bookshelf, you can access them anytime, anywhere.
Buy Access
Range Management, CourseSmart eTextbook, 6th Edition
Format: Safari Book
$70.99 | ISBN-13: 978-0-13-507122-9