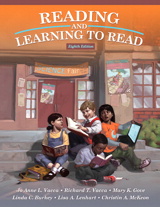 Description
Reading and Learning to Read, 8/e is a highly-popular resource that expertly prepares pre-service and in-service teachers for today's ever-changing literacy classroom with its comprehensive coverage of philosophies, teaching strategies, and assessment practices. In addition, this book focuses on helping teachers implement effective research-based strategies with struggling and diverse learners; presents practical applications that engage students in new literacies and technology applications; and features the International Reading Association 2010 Standards for Reading Professionals. Professors, pre-service and in-service teachers will find this textbook user-friendly in format, design, and writing style; the expert knowledge is comprehensive and understandable.
Table of Contents
Features
Preface
Chapter 1 Knowledge and Beliefs About Reading
Chapter 2 Approaches to Reading Instruction
Chapter 3 Meeting the Literacy Needs of Diverse Learners
Chapter 4 Early Literacy: From Birth to School
Chapter 5 Literacy Instruction for Beginning Readers and Writers
Chapter 6 Assessing Reading Performance
Chapter 7 Word Identification
Chapter 8 Reading Fluency
Chapter 9 Vocabulary Knowledge and Concept Development
Chapter 10 Reading Comprehension
Chapter 11 Reading—Writing Connections
Chapter 12 Bringing Children and Literature Together
Chapter 13 Instructional Materials
Chapter 14 Making the Transition to Content Area Texts
Appendix A Beliefs About Reading Interview
Appendix B Trade Books That Repeat Phonic Elements
Appendix C Annotated Bibliography of Read-Aloud Books for Developing Phonemic Awareness
Appendix D Recommended Books for Multicultural Reading Experiences
Appendix E International Reading Association Standards for Reading Professionals
Glossary
References
Name Index
Subject Index
Purchase Info
ISBN-10: 0-13-259684-9
ISBN-13: 978-0-13-259684-8
Format: Alternate Binding
Digital Choices ?
MyLab & Mastering with Pearson eText is a complete digital substitute for a print value pack at a lower price.
eTextbook ?
With CourseSmart eTextbooks and eResources, you save up to 60% off the price of new print textbooks, and can switch between studying online or offline to suit your needs.
Once you have purchased your eTextbooks and added them to your CourseSmart bookshelf, you can access them anytime, anywhere.