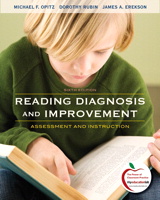 Description
Theory, basic knowledge and skills, and practical applications combine to ensure pre-service and in-service teachers have all that they need to make diagnosis and improvement an integral part of their reading programs. Based on the authors' premise that when assessment and instruction are central to a reading program, children's reading improvement will occur, the book sets the stage for effective reading diagnosis and improvement, describes various assessment measures teachers can use to assess and diagnose students' reading performance, and presents reading content and instruction. Comprehensive, practical, and comprehensible, this new edition is updated and substantially revised in light of the new discoveries related to reading assessment and reading instruction.
Table of Contents
Brief Contents
Part 1 Setting the Stage
1 What is Reading Diagnosis and Improvement?
2 Teaching for Reading and Improvement
3 Developing a Knowledge Base about Tests, Measurement, and Evaluation
4 Factors that Affect Reading Performance
Part 2 Assessing Reading
5 Using Informal Assessment Techniques across the Grades
6 Using Standardized Assessments across grade levels
7 Assessing and Teaching Early Literacy
8 Listening in on Students' Oral Reading
Part 3 Content and Instruction
9 Using Texts to Help Children Advance as readers
10 Helping Children comprehend
11 Helping Children Acquire and Apply Vocabulary
12 Helping Children Apply Phonics
13 Learning Strategies and Study Skills
14 Partnering with Parents
15 Putting It All Together
Appendices
Appendix A Constructing an Informal Reading Inventory
Appendix B Informal Reading Inventory
Appendix C Teacher's Resource Guide of Language Transfer Issues For English Language Learners
Appendix D International Reading Association Commission on Response to Intervention
Glossary
Index