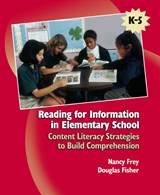 Description
Reading for Information in Elementary School: Content Literacy Strategies to Build Comprehension was written to give k-5 teachers the tools they need to lay an educational groundwork that promotes students' success with informational text from the early grades. Packed with research-based, classroom-proven strategies, the book follows a before, during, and after reading format that models the most effective approach to reading for information, focusing on the processes required to develop content literacy. You'll meet the teachers, sit in on their lessons, witness their students' responses, and come away from this book with a model for teaching your students to read successfully for information and a handbook of proven strategies to implement.
Features:
Examples of instructional strategies-This book follows six elementary teachers (grades K-5) as they utilize strategies with informational texts. These examples are detailed and include student and teacher dialogue to provide readers with the sense they are watching the lesson unhold.
Each focus instructional strategy is research-based-The instructional strategies outlined in this book have a research base and have been implemented in schools across the country.
Margin notes provide readers with additional information and resources-Readers are referred to other sources of information at common places that they may have questions.
A clear process for organizing instruction is provided-The strategies and texts presented in the book follow the before/during/after instructional organization used by teachers to foster reading comprehension.
Book covers of informational texts-Each chapter features the covers and bibliographical information of some of the best informational texts available today.
Table of Contents
Chapter 1 Reading for Information in the Elementary School
Chapter 2 Conversations for Learning: Classroom and School Structures that Support Reading for Information
Chapter 3 Attention Getters: Anticipatory Activities
Chapter 4 Word for Word: Vocabulary Development Across the Curriculum
Chapter 5 Read-Alouds and Shared Readings
Chapter 6 Questions, Questions, Everywhere
Chapter 7 Picture This: Graphic Organizers
Chapter 8 Structured Note-Taking and Note-Making
Chapter 9 Writing to Learn
Chapter 10 Measurement Growth: Assessment and Testing