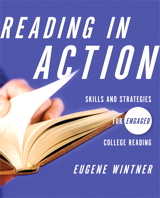 Description
Reading in Action utilizes an active reading approach through progressive exercise sets and a focus on metacognition in order to help students improve their reading skills and develop a stronger reader identity.
Gene Wintner recognizes that students' success in college reading courses is largely related to their engagement with the course materials, and answers the call by providing meaningful topics, high-interest reading selections, and a variety of activities to foster student engagement. Wintner carries this student engagement concept further by encouraging students to be aware of his/her own reading processes and establish a positive reader identity. This identify is forged through regular attention to metacognition and reflection of the student's growing identity as a reader.
Table of Contents
Introduction: You, the Reader
Chapter 1: Using Pre-reading Strategies
Chapter 2: Context and Dictionary
Chapter 3: Understanding Word Structure
Chapter 4: Paragraph Logic: Topic and Main Idea
Chapter 5: Paragraph Logic: Main Ideas and Supporting Details
Chapter 6: Monitoring and Clarifying Comprehension
Chapter 7: Connecting Ideas: Sentence Relationships and Transition Words
Chapter 8: Logical Patterns
Chapter 9: Inference
Chapter 10: Critical Reading
Additional Readings
Appendixes
A. Pronouncing Unfamiliar Words
B. Understanding Word Structure: Roots
C. Reading Graphs and Charts
Additional Course Materials
Print
$112.00 | ISBN-13: 978-0-205-70752-2
Free Ground Shipping.