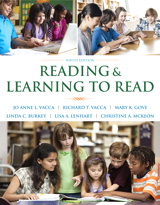 Description
NOTE: Used books, rentals, and purchases made outside of Pearson
If purchasing or renting from companies other than Pearson, the access codes for the Enhanced Pearson eText may not be included, may be incorrect, or may be previously redeemed. Check with the seller before completing your purchase.

This package includes the Enhanced Pearson eText and the loose-leaf version
Reading and Learning to Read, 9/e is a highly popular reading instruction text prepares pre- and in-service teachers for today's ever-changing literacy classroom. Authored by some of the best-known experts in the field, the book's comprehensive approach to teaching reading and writing continues to emphasize research-based practices, technology integration, accommodation for the needs of diverse and struggling learners, the influences of current educational policy, today's standards for reading professionals, and up-to-date reading methodologies and strategies. The Enhanced Pearson eText features embedded video, weblinks, and assessments.
Improve mastery and retention with the Enhanced Pearson eText*
The Enhanced Pearson eText provides a rich, interactive learning environment designed to improve student mastery of content. The Enhanced Pearson eText is:
Engaging. The new interactive, multimedia learning features were developed by the authors and other subject-matter experts to deepen and enrich the learning experience.

Convenient. Enjoy instant online access from your computer or download the Pearson eText App to read on or offline on your iPad® and Android® tablet.*

Affordable. Experience the advantages of the Enhanced Pearson eText along with all the benefits of print for 40% to 50% less than a print bound book.
*The Enhanced eText features are only available in the Pearson eText format. They are not available in third-party eTexts or downloads.
*The Pearson eText App is available on Google Play and in the App Store. It requires Android OS 3.1-4, a 7" or 10" tablet, or iPad iOS 5.0 or later.
0133831493 / 9780133831498 Reading and Learning to Read, Loose-Leaf Version with Enhanced Pearson eText -- Access Card Package
Package consists of:
0133569632 / 9780133569636 Reading and Learning to Read, Loose-Leaf Version

0133824675 / 9780133824674 Reading and Learning to Read, Enhanced Pearson eText -- Access Card
Table of Contents
Brief Contents
Chapter 1 Knowledge and Beliefs About Reading 1
Chapter 2 Approaches to Reading Instruction 34
Chapter 3 Meeting the Literacy Needs of Diverse Learners 62
Chapter 4 Early Literacy: From Birth to School 98
Chapter 5 Literacy Instruction for Beginning Readers and Writers 136
Chapter 6 Assessing Reading Performance 178
Chapter 7 Word Identification 222
Chapter 8 Reading Fluency 270
Chapter 9 Vocabulary Knowledge and Concept Development 298
Chapter 10 Reading Comprehension 336
Chapter 11 Reading—Writing Connections 378
Chapter 12 Bringing Children and Text Together 418
Chapter 13 Instructional Materials 456
Chapter 14 Making the Transition to Content Area Texts 486
Appendix A Beliefs About Reading Interview 527
Appendix B Trade Books That Repeat Phonic Elements 533
Appendix C Annotated Bibliography of Read-Aloud Books for Developing Phonemic Awareness 535
Appendix D Recommended Books for Multicultural Reading Experiences 539
Appendix E International Reading Association Standards for Reading Professionals 545
This title is also sold in the various packages listed below. Before purchasing one of these packages, speak with your professor about which one will help you be successful in your course.
Package ISBN-13: 9780134677187
Includes this title packaged with:
Phonics and Word Study for the Teacher of Reading: Programmed for Self-Instruction, 11th Edition
Barbara J. Fox
Language Arts: Patterns of Practice, Enhanced Pearson eText -- Access Card, 9th Edition
Gail E. Tompkins
Language Arts: Patterns of Practice, Loose-Leaf Version, 9th Edition
Gail E. Tompkins
$223.67 $214.16 | Add to Cart