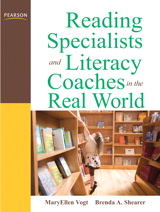 Description
The Third Edition of this research-based text describes the evolving roles of reading specialists and literacy coaches with a culturally responsive perspective.
Reading Specialists and Literacy Coaches in the Real World, Third Edition, is a unique text designed to prepare reading specialists and literacy coaches to implement reading programs at the school and district level. Designed for undergraduate and graduate courses in reading certification programs, the text includes both theoretical and practical information about the varied roles of reading specialist and literacy coaches, including: teacher and diagnostician, intervention provider, curriculum designer, professional developer, coach/ mentor/supervisor, literacy program evaluator, action researcher, and literacy leader. This Third Edition emphasizes leadership for informed decision making, including standards schools must meet relative to curriculum, advances in technology, and programs for professional development, and economic challenges faced by schools.
This text may also be used for professional development by reading specialists and literacy coaches, and to prepare administrators to coordinate, implement, and evaluate programs for teaching reading/language arts.
Table of Contents
PART I READING SPECIALISTS AND LITERACY COACHES:
HONORING THE PAST, SHAPING THE FUTURE
CHAPTER ONE
Examining the Historical Context for Teaching Reading LEARNING GOALS
STANDARDS FOR READING PROFESSIONALS
VIGNETTE
WHY CHANGE?
EXPLORING READING INSTRUCTION OVER TIME
BEYOND THE BOOK
TEACHING READING IN THE TWENTY-FIRST CENTURY
REVISITING THE VIGNETTE
LOOKING TO THE FUTURE: THE CASE FOR EVIDENCE-BASED DECISION-MAKING
REVISITING THE VIGNETTE
POINTS TO REMEMBER
PORTFOLIO AND SELF-ASSESSMENT PROJECTS
RECOMMENDED READINGS
COMPANION WEBSITE RESOURCES
CHAPTER TWO formerly Ch. 10
Serving as an Elementary, Secondary, or District-Level Reading Specialist or Literacy Coach
LEARNING GOALS
STANDARDS FOR READING PROFESSIONALS
VIGNETTE
EVOLUTION OF THE LITERACY PROFESSIONAL: READING SPECIALISTS AND COACHES
SCHOOL AND DISTRICT ROLES OF LITERACY COACHES AND READING SPECIALISTS
THE READING SPECIALIST
THE LITERACY COACH
MODELS OF LITERACY COACHING
DEALING WITH NEGATIVE PEOPLE AND LEARNING
FROM YOUR MISTAKES
NEW DIRECTIONS: ISSUES AND PERSPECTIVES FOR LITERACY PROFESSIONALS
BEYOND THE BOOK
SUPERVISING READING SPECIALISTS
STUDY GROUPS
SAVING THE BEST FOR LAST: BEGINNING THE JOB
OF LITERACY COACH
REVISITING THE VIGNETTE
POINTS TO REMEMBER
PORTFOLIO AND SELF-ASSESSMENT PROJECTS
RECOMMENDED READINGS
COMPANION WEBSITE RESOURCES
PART II READING SPECIALISTS AND LITERACY COACHES:
LEADING A COLLABORATIVE VISION
CHAPTER THREE formerly Ch. 2
Forming a Literacy Team and Creating a Literacy Vision
LEARNING GOALS
STANDARDS FOR READING PROFESSIONALS
VIGNETTE
CULTURALLY RESPONSIVE LITERACY
PROGRAMS: ASKING NEW QUESTIONS
ESTABLISHING THE LITERACY TEAM
LITERACIES AND COMMUNITIES: ASKING NEW QUESTIONS
BEYOND THE BOOK
DEVELOPING A WRITTEN VISION STATEMENT
ALIGNING WITH STANDARDS: THE STANDARDS REFORM MOVEMENT
BEYOND THE BOOK
REVISITING THE VIGNETTE
POINTS TO REMEMBER
PORTFOLIO AND SELF-ASSESSMENT PROJECTS
RECOMMENDED READINGS
COMPANION WEBSITE RESOURCES
CHAPTER FOUR formerly Ch. 3
Determining a School's Literacy Needs and Developing a Plan
LEARNING GOALS
STANDARDS FOR READING PROFESSIONALS
VIGNETTE
ASSESSING THE SCHOOL LITERACY PROGRAM NEEDS
THE NEEDS ASSESSMENT PROCESS
REVISITING THE VIGNETTE
CREATING THE COMPREHENSIVE TWO-YEAR PLAN/GRID
REVISITING THE VIGNETTE
POINTS TO REMEMBER
PORTFOLIO AND SELF-ASSESSMENT PROJECTS
RECOMMENDED READINGS
COMPANION WEBSITE RESOURCES
CHAPTER FIVE formerly Ch. 4
Matching Context to Students: Assessment as Inquiry
LEARNING GOALS
STANDARDS FOR READING PROFESSIONALS
VIGNETTE
IMPORTANT QUESTIONS ABOUT LITERACY ASSESSMENT
THE READING SPECIALIST'S ROLE IN ASSESSMENT
CONTEXTUALIZED ASSESSMENT
REVISITING THE VIGNETTE
THE READER: ASSESSMENT AS INQUIRY
BEYOND THE BOOK
ASSESSMENT: MAKING RESPONSIBLE CHOICES
ASSESSMENT:CATEGORIES AND CHARACTERISTICS
IMPLICATIONS FOR DEVELOPING SCHOOLWIDE ASSESSMENT PROGRAMS
IMPLICATIONS FOR DEVELOPING DISTRICTWIDE ASSESSMENT PROGRAMS
REVISITING THE VIGNETTE
POINTS TO REMEMBER
PORTFOLIO AND SELF-ASSESSMENT PROJECTS
RECOMMENDED READINGS
COMPANION WEBSITE RESOURCES
PART III READING SPECIALISTS AND COACHES: LEADING PRINCIPLED PRACTICE
CHAPTER SIX formerly Ch. 5
Differentiating Instruction to Meet Learners' Needs: Framing Literacy Intervention
LEARNING GOALS
STANDARDS FOR READING PROFESSIONALS
VIGNETTE
PROVIDING AN APPROPRIATE LEARNING ENVIRONMENT
CHANGING PERSPECTIVES ON INTERVENTION
RESPONSE TO INTERVENTION (RtI) IN THE ELEMENTARY SCHOOL
REVISITING THE VIGNETTE
INTERVENTION AT THE PRESCHOOL AND KINDERGARTEN LEVELS
INTERVENTION AT THE MIDDLE AND HIGH SCHOOL LEVELS
THE ROLE OF THE READING PROFESSIONAL IN RtI
RtI ISSUES TO CONSIDER
POINTS TO REMEMBER
REVISITING THE VIGNETTE
PORTFOLIO AND SELF-ASSESSMENT PROJECTS
RECOMMENDED READINGS
COMPANION WEBSITE RESOURCES
CHAPTER SEVEN formerly Ch. 6
Language and Literacy Development for English Learners
LEARNING GOALS
STANDARDS FOR READING PROFESSIONALS
VIGNETTE
SUPPORTING LANGUAGE AND LITERACY DEVELOPMENT FOR ENGLISH LEARNERS
LANGUAGE AND LITERACY DEVELOPMENT
FOR ENGLISH LEARNERS
SUPPORTING ENGLISH LEARNERS WITH EFFECTIVE LITERACY INSTRUCTION
BEYOND THE BOOK
REVISITING THE VIGNETTE
POINTS TO REMEMBER
PORTFOLIO AND SELF-ASSESSMENT PROJECTS
RECOMMENDED READINGS
COMPANION WEBSITE RESOURCES
CHAPTER EIGHT formerly Ch. 7
Implementing a Comprehensive Literacy Program in the Elementary School
LEARNING GOALS
STANDARDS FOR READING PROFESSIONALS
VIGNETTE
THE READING AND LANGUAGE ARTS CURRICULUM IN
THE ELEMENTARY SCHOOL
FOUNDATIONS FOR LEARNING TO READ
BEYOND THE BOOK
RECENT INSIGHTS INTO EFFECTIVE PRACTICE
REVISITING THE VIGNETTE
POINTS TO REMEMBER
PORTFOLIO AND SELF-ASSESSMENT PROJECTS
RECOMMENDED READINGS
COMPANION WEBSITE RESOURCES
CHAPTER NINE formerly Ch. 8
Implementing a Comprehensive Literacy Program in Middle and Secondary Schools
LEARNING GOALS
STANDARDS FOR READING PROFESSIONALS
VIGNETTE
ADOLESCENT LITERACY: ISSUES AND PERSPECTIVES
REVISITING THE VIGNETTE
THE CALL FOR REFORM IN ADOLESCENT LITERACY
WHAT ADOLESCENT READERS NEED
NEW LITERACIES AND THE READING PROFESSIONAL
BEYOND THE BOOK
MOTIVATION AND THE ADOLESCENT LEARNER
ASSESSMENT ISSUES IN ADOLESCENT LITERACY
ROLE OF THE READING PROFESSIONAL IN ADOLESCENT LITERACY
REVISITING THE VIGNETTE
POINTS TO REMEMBER
PORTFOLIO AND SELF-ASSESSMENT PROJECTS
RECOMMENDED READINGS
COMPANION WEBSITE RESOURCES
CHAPTER TEN formerly Ch. 9
Selecting and Evaluating Instructional Materials and Technology Resources
LEARNING GOALS
STANDARDS FOR READING PROFESSIONALS
VIGNETTE
THE TEXTBOOK AND INSTRUCTIONAL MATERIALS
ADOPTION PROCESS
GUIDELINES FOR SELECTING INSTRUCTIONAL
MATERIALS FOR READING AND LANGUAGE ARTS
BEYOND THE BOOK
WORKING WITH PUBLISHERS AND SALES REPRESENTATIVES
TECHNOLOGY: IN AND OUT OF SCHOOL LITERACIES
THE LITERACY TEACHER AND EFFECTIVE TECHNOLOGY USE
THE ROLE OF THE LITERACY PROFESSIONAL AND TECHNOLOGY
REVISITING THE VIGNETTE
POINTS TO REMEMBER
PORTFOLIO AND SELF-ASSESSMENT PROJECTS
RECOMMENDED READINGS
COMPANION WEBSITE RESOURCES
NOTES
PART IV READING SPECIALISTS AND COACHES: LEADING GROWTH AND CHANGE
CHAPTER ELEVEN (same)
Planning and Implementing Multi-Dimensional Professional Development
LEARNING GOALS
STANDARDS FOR READING PROFESSIONALS
VIGNETTE
CREATING A PROFESSIONAL DEVELOPMENT PLAN (PDP)
PLANNING AND LEADING PROFESSIONAL DEVELOPMENT WORKSHOPS
BEYOND THE BOOK
REVISITING THE VIGNETTE
POINTS TO REMEMBER
PORTFOLIO AND SELF-ASSESSMENT PROJECTS
RECOMMENDED READINGS
COMPANION WEBSITE RESOURCES
CHAPTER TWELVE formerly Ch. 13
Moving the Field Forward as Leaders, Researchers, and Advocates
LEARNING GOALS
STANDARDS FOR READING PROFESSIONALS: READING SPECIALISTS/LITERACY COACHES
VIGNETTE
CONTINUING THE PROFESSIONAL JOURNEY
INVOLVEMENT IN PROFESSIONAL ORGANIZATIONS
WRITING SUCCESSFUL GRANT PROPOSALS
ROLE OF THE READING SPECIALIST/LITERACY COACH IN
SUPPORTING CLASSROOM RESEARCH
THE READING SPECIALIST AND LITERACY COACH AS
LITERACY ADVOCATES
REVISITING THE VIGNETTE
ADULT LITERACY AND FAMILY LITERCY
BEYOND THE BOOK
POINTS TO REMEMBER
PORTFOLIO AND SELF-ASSESSMENT PROJECTS
RECOMMENDED READINGS
COMPANION WEBSITE RESOURCES
APPENDIXES
Appendix A Literacy History Prompts
Appendix B Examples of Two Schools' Vision Statements
Appendix C Standards-Based Curriculum Framework
Appendix D Sample Needs Assessment Survey
Appendix E Sample Needs Assessment Summary
Appendix F Sample Two-Year Plan/Grid
References
Index