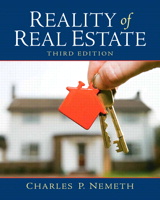 Description
For courses in Introductory Real Estate.
The Reality of Real Estate is written from a practical perspective–presenting concepts within the context of job competencies. It emphasizes the practices and procedures of real estate and stresses the operational and mechanical steps in the transaction such as the buying and selling; the review and assessment of title, the preparation of Deeds and Mortgages, and the preparation and completion of the settlement. Each chapter is filled with examples, forms and exercises that give students hands-on experience working with a variety of real estate situations.
Table of Contents
1. The Reality of Real Estate
2. The Real Estate Transaction: Listings, Disclosure, and Agency
3. Agreements of Sale
4. Conditions, Contingencies, and Other Qualifications
5. Title Abstraction
6. Nature of a Deed
7. Mortgages
8. Closing and Settlement
9. Leases in the Real Estate Transactions
10. Resolution of Real Estate Disputes
11. Foreclosure
Purchase Info ?
With CourseSmart eTextbooks and eResources, you save up to 60% off the price of new print textbooks, and can switch between studying online or offline to suit your needs.
Once you have purchased your eTextbooks and added them to your CourseSmart bookshelf, you can access them anytime, anywhere.
Buy Access
Reality of Real Estate, CourseSmart eTextbook, 3rd Edition
Format: Safari Book
$53.99 | ISBN-13: 978-0-13-512051-4