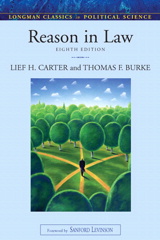 Description
Arguing that good legal reasoning remains the best device by which we can ensure that judicial impartiality, the rule of law, and social trust and peace are preserved, Thomas F. Burke and Lief H. Carter present an accessible and lively text that analyzes the politics of the judicial process. Looking at the larger social and institutional contexts that affect the rule of law — including religious beliefs and media coverage of the courts — Reason in Law uses cases ripped from the headlines to illustrate its theory in real-world practice.
Table of Contents
1 What Legal Reasoning Is, and Why It Matters
An Overview of Law and Politics
A Definition of Law
A Definition of Legal Reasoning
Legal Reasoning Does Not Discover the "One Right Answer."
The Four Elements of Legal Reasoning
Sources of Official Legal Texts
The Choices That Legal Reasoning Confronts
Illustrative Case
Questions about the Case
2 Change and Stability in Legal Reasoning
Sources of Unpredictibility in Law
Is Unpredictability in Law Desirable?
Vertical and Horizontal Stare Decisis: A Stabilizing and Clarifying Element in Law.
Illustrative Cases
Questions about the Cases
3 Common Law
Origins of Common Law
Reasoning by Example in Common Law
Keeping the Common-Law Tradition Alive
The Common-Law Tradition Today
Illustrative Case
Questions about the Case
4 Statutory Interpretation
What are Statutes?
Four Misguided Approaches to "First Instance" Statutory Interpretation
Purpose: The Key to Wise Statutory Interpretation
Stare Decisis in Statutory Interpretation
A Summary Statement of the Appropriate Judicial Approach to Statutory Interpretation
Illustrative Case
Questions about the Case
5 Interpreting the United States Constitution
"The Supreme Law of the Land"
Conventional Legal Reasoning in Constitutional Interpretation
Judicial Review and Democratic Theory
The Turn to Individual Dignity
Illustrative Case
Questions about the Case
6 Law and Politics
The Rule of Law
Three Threats to the Rule of Law
The Rule of Law as Liberal Justification
Illustrative Case
Appendix A: Introduction to Legal Procedure and Terminology
Appendix B: Law and Politics: The Rule of Law and the Bush Administration
Purchase Info ?
With CourseSmart eTextbooks and eResources, you save up to 60% off the price of new print textbooks, and can switch between studying online or offline to suit your needs.
Once you have purchased your eTextbooks and added them to your CourseSmart bookshelf, you can access them anytime, anywhere.
Buy Access
Reason in Law, CourseSmart eTextbook, 8th Edition
Format: Safari Book
$29.99 | ISBN-13: 978-0-205-77817-1