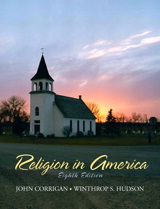 Description
For undergraduate courses in Western Religion, Modern Religions, and American Religion.
This comprehensive narrative account of religion in America from 1607 through the present depicts the religious life of the American people within the context of American society. It addresses topics ranging from the European/Puritan origins of American religious thought, encompassing the ramifications of the "Great Awakening" and the effect of nationhood on religious practice, and extending through to the shifting religious configuration of the late 20th century.
Table of Contents
I. RELIGION IN A COLONIAL CONTEXT, 1492-1789.
1. Backgrounds and Beginnings.
2. The Colonial Encounter.
3. The Great Awakening.
4. The Birth of the Republic.
II. THE NEW NATION, 1789-1865.
5. Religious Organizations in the Republic.
6. Thinking and Feeling in the Nineteenth Century.
7. The Flowering of Denominational Life.
8. Revelations and Visions of Religious Community.
III. YEARS OF MIDPASSAGE, 1865-1918.
9. Race, Religion, and American Empire.
10. Jews, Catholics, Outliers and Other New Americans.
11. The New Intellectual Climate.
12. New Frontiers for the Churches.
IV. MODERN AMERICA, 1918- .
13. The Shifting Religious Configuration.
14. Protestantism's Uneasy Journey to the Comfortable Fifties.
15. The Changing Roman Catholic Church.
16. Old and New Centers.
Epilogue.
Suggestions for Further Reading.
Index.
Purchase Info ?
With CourseSmart eTextbooks and eResources, you save up to 60% off the price of new print textbooks, and can switch between studying online or offline to suit your needs.
Once you have purchased your eTextbooks and added them to your CourseSmart bookshelf, you can access them anytime, anywhere.
Buy Access
Religion in America, CourseSmart eTextbook, 8th Edition
Format: Safari Book
$40.99 | ISBN-13: 978-0-205-71191-8