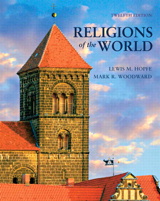 Description
For introductory courses in world religions, comparative religions or introduction to religion.
Conceived for students with little or no background in the academic study of religions, Religions of the World offers the most broad coverage of world religions supported by primary source documents, coverage of religions as they exist today, and integrated media resources.
In preparing the eleventh edition of Religions of the World, Mark Woodward drew on his experience in teaching an introductory course on the religions of the world to thousands of undergraduates over the last two decades, living and working in Buddhist, Muslim and Chinese cultures for extended periods and on conversations with friends and colleagues in the Arizona Native American community. In this edition, he has edited the text closely for clarity and readability and made other changes to keep it up to date and accurate including updating all sections on religion today for each tradition. Religions of the World is comprehensive, readable, and engaging for all students.
Table of Contents
Brief Table of Contents
Chapter 1 Basic Religions and World Religions
Chapter 2 Native American Religions
Chapter 3 African Religions
Religions Originating in India
Chapter 4 Hinduism
Chapter 5 Jainism
Chapter 6 Buddhism
Chapter 7 Sikhism
Religions Originating in China and Japan
Chapter 8 Chinese Religions
Chapter 9 Shinto
Religion Origination in the Middle East
Chapter 10 Zoroastrianism
Chapter 11 Judaism
Chapter 12 Christianity
Chapter 13 Islam
Chapter 14 Baha'i (Online Bonus Chapter)
Glossary
Credits
Index
Purchase Info ?
With CourseSmart eTextbooks and eResources, you save up to 60% off the price of new print textbooks, and can switch between studying online or offline to suit your needs.
Once you have purchased your eTextbooks and added them to your CourseSmart bookshelf, you can access them anytime, anywhere.
Buy Access
Religions of the World, CourseSmart eTextbook, 12th Edition
Format: Safari Book
$58.99 | ISBN-13: 978-0-205-15861-4