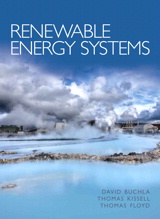 Description
For courses in Introductory Renewable Systems, Environmental Studies, and Solar, Wind, and Geothermal Energy
Renewable Energy Systems is an introductory text that offers broad coverage of all major renewable energy systems, resources, and related topics, such as fuel cells and generators. The text's teaching and learning package includes an Instructor's Manual and a set of PowerPoint slides that support the text with illustrations, additional examples, selected key terms, and a True/False quiz.
Teaching and Learning Experience
The text provides students the detailed, accessible overview needed to understand the breadth of renewable energy technologies and materials.
Accessible presentation. Chapter and section openers, margin features, and clear presentation of physics and mathematics help students learn the subject matter.

Applied practice. Section check-ups, worked examples, and coverage of key technologies show how technologies and materials are applied.

Visually engaging. The text is loaded with illustrations, original drawings, and photographs in full color.
Table of Contents
1. Energy Sources
2. Electrical Fundamentals
3. Solar Photovoltaics
4. Solar Energy Systems
5. Solar Tracking
6. The Charge Controller and Inverter
7. Wind Power Systems
8. Wind Turbine Control
9. Biomass Technologies
10. Geothermal Power Generation
11. Energy from Water
12. Fuel Cells
13. Generators
14. The Electrical Power Grid
Glossary
List of Variables
Index
Purchase Info ?
With CourseSmart eTextbooks and eResources, you save up to 60% off the price of new print textbooks, and can switch between studying online or offline to suit your needs.
Once you have purchased your eTextbooks and added them to your CourseSmart bookshelf, you can access them anytime, anywhere.
Buy Access
Renewable Energy Systems, CourseSmart eTextbook
Format: Safari Book
$50.99 | ISBN-13: 978-0-13-261550-1