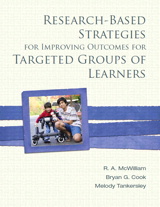 Description
For courses in Instructional Methods in Special Education, Special Education Learner Characteristics, and Inclusion Practices.
An authoritative collection of the best research-based practices known to improve outcomes for targeted groups of learners.
A volume unlike any other, this book helps special educators combat the gap between research and practice by identifying specific practices proven through research to work for students with special needs. Appropriate for practitioners, teacher-educators, and policymakers, this book is written by leading authorities in the field and gathers the most meaningful research and practices regarding special populations in a single source. Chapters offer a consistent format that includes definition of strategy, theoretical underpinnings, description, fidelity checklist, and research-based summaries. Sections show how to improve outcomes for a variety of special populations from early childhood, to students with high incidence disabilities, to students with autism spectrum disorders.
Table of Contents
Introduction to Research-based Practices in Special Education (Bryan G. Cook, & Melody Tankersley)

Research-based Practices in Early Childhood Special Education (Mary Jo Noonan & Patricia Sheehey)

Teaching Students with High Incidence Disabilities (Tom Scruggs & Margo Mastropieri)

Teaching Individuals with Severe Intellectual Disability: Effective Instructional Practices (Susan R. Copeland & Kay Osborn)

Effective Reading Interventions for English Language Learners (Kathleen King, Alfredo Artiles, & Amanda Sullivan)

Teaching Students with Language Disorders (Laura Justice, Sandra Gillam, & Anita McGinty)

Teaching Students with Autism Spectrum Disorders (Rose Iovannone)

Effective Practices for Promoting Literacy with Individuals who have Physical Disabilities (Mari Beth Coleman & Kathryn Wolff Heller)

Teaching Students who have Sensory Disabilities (Deborah Chen, Rachel Friedman Narr, & Diane P. Wormsley)

Teaching for Transition to Adulthood (David W. Test, Kelly R. Kelley, & Dawn A. Rowe)