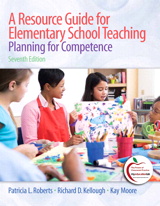 Components of the Package:
MyLab Education -- Valuepack Access Card
By . . Pearson Education
Resource Guide for Elementary School Teaching, A: Planning for Competence, 7th Edition
By Patricia L. Roberts, Richard D. Kellough, Kay M. Moore
Description
A Resource Guide for Elementary School Teaching is a practical, comprehensive, and concise methods text designed to engage readers in "hands-on" and "minds-on" learning about effective teaching. Each chapter contains an abundance of application exercises on perforated pages that provide opportunities to practice what is learned and to reflect on the progress teachers are making toward their professional competence. Its rich, practical, timely topics include planning, class management (including culturally responsive classrooms), teaching strategies, integrated technology/media, assessment, and more. The user-friendly format presents readers with a valuable resource that transcends its use in college coursework alone by offering strategies that can be easily applied in elementary classrooms, and its practical approach provides hands-on activities, exercises, and strategies for student teaching and field experiences.
Table of Contents
Part I: ELEMENTARY SCHOOL TEACHING AND LEARNING
Chapter 1: What Do I Need to Know about Today's Elementary Schools?
Chapter 2: The Nature of the Challenge: What Do I Need to Know about Elementary Learners?
Chapter 3: What Are the Expectations, Responsibilities, and Facilitating Behaviors of a Classroom Teacher?
Chapter 4: What Do I Need to Know to Manage an Effective and Safe Learning Environment?
Part II: PLANNING FOR CURRICULUM AND INSTRUCTION
Chapter 5: How Do I Plan and Select Content?
Chapter 6: How Do I Assess, Use, and Report Student Achievement?
Chapter 7: How Do I Prepare Activities, Lessons, and Units?
PART III: EFFECTIVE INSTRUCTION, TEACHER ASSESSMENT, AND PROFESSIONAL DEVELOPMENT
Chapter 8: What Do I Need to Know to Use Teacher Talk and Questioning as Effective Instructional Tools?
Chapter 9: What Guidelines Assist My Use of Demonstrations, Thinking, Inquiry Learning, and Games?
Chapter 10: What Guidelines Assist My Use of Groupings and Assignments to Promote Positive Interaction and Quality Learning?
Chapter 11: How May I Assess My Teaching Effectiveness and Continue My Professional Development?
Appendix A: Teacher Tests Study Guide: Hints for Short-Answer Response Questions
Appendix B: Self-Check Reflection Guide: Mid-Point and Final
Glossary
Children's Literature Index
Name Index
Subject Index With Target Topics for Teacher Tests