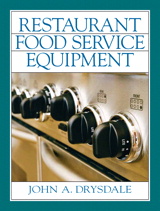 Description
A supplement for courses in Introduction to Foods, Food Sanitation, Facilities Management, and Kitchen Layout and Design.
A one-of-a-kind, this resource explains how to operate, clean, sanitize, and maintain a full range of kitchen equipment–from mixers and slicers to ovens and refrigerators. Offering a step-by-step approach, it explains the mechanics of each type of equipment and how the equipment is actually used in cooking. Safety is addressed throughout–including information on basic first aid, safety procedures, accident prevention and the maintenance of a clean production environment. Illustrations accompany step-by-step instructions, making this the most definitive book published on foodservice equipment.
Table of Contents
Table of Contents
1. Cleaning, Sanitizing, and Maintaining Equipment
Importance
Types of cleaning agents
Sanitizing compounds
Maintenance schedules
2. Health Department's Role in Equipment Sanitation
Federal government's role; FDA, Model Food Code, HACCP
State government's role
Local enforcement
Type of inspections
3. Safe Equipment Operation
Importance of safety
Safe operation of electrical equipment
Safe operation of gas equipment
Fire safety
First Aid
4. Mechanical equipment
Mixer
Slicer
Cutter mixer
Food chopper
Can opener
5. Cooking Equipment Part 1
Ranges: gas, electric, induction
Griddle
Fryer
Proof cabinet/Hot holding cabinet
Coffee brewing equipment
6. Cooking Equipment Part 2
Ovens; convection, conventional, gas, electric
Conveyer oven
Microwave oven
Pressure steamer
Combination oven steamers
Steam jacketed kettles
Braising pans
Hoods, make-up air and fire suppressants systems
7. Refrigeration
Reach in refrigerators and freezers
Walk in coolers and freezers
Ice machines
Carbonated beverage units
8. Sanitation
Dish machines — one tank, three tank
Pots and pans sink
Disposals
Appendix — Competency verification sheet
Purchase Info ?
With CourseSmart eTextbooks and eResources, you save up to 60% off the price of new print textbooks, and can switch between studying online or offline to suit your needs.
Once you have purchased your eTextbooks and added them to your CourseSmart bookshelf, you can access them anytime, anywhere.
Buy Access
Restaurant and Food Service Equipment, CourseSmart eTextbook
Format: Safari Book
$24.99 | ISBN-13: 978-0-13-702070-6