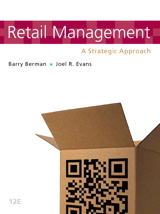 Description
The text that helps readers thrive in today's retailing industry.

Without a predefined and well-integrated strategy, a retail firm may flounder as it's attempting to cope with the changing environment that surrounds it. Berman/Evans' reader-friendly text, Retail Management: A Strategic Approach, provides a strategic, decision-making approach that illustrates how retailers plan for, and adapt to, today's changing and complex retail environment.

Table of Contents
Part One: An Overview of Strategic Retail Management
Chapter 1: An Introduction to Retailing
Chapter 2: Building and Sustaining Relationships in Retailing
Chapter 3: Strategic Planning in Retailing

Part Two: Situation Analysis
Chapter 4: Retail Institutions by Ownership
Chapter 5: Retail Institutions by Store-Based Strategy
Chapter 6: Web, Nonstore-Based, and Other Forms of Nontraditional Retailing

Part Three: Targeting Customers and Gathering Information
Chapter 7: Identifying and Understanding Consumers
Chapter 8: Information Gathering and Processing in Retailing

Part Four: Choosing a Store Location
Chapter 9: Trading-Area Analysis
Chapter 10: Site Selection

Part Five: Managing a Retail Business
Chapter 11: Retail Organization and Human Resource Management
Chapter 12: Operations Management: Financial Dimensions
Chapter 13: Operations Management: Operational Dimensions

Part Six: Merchandise Management and Pricing
Chapter 14: Developing Merchandise Plans
Chapter 15: Implementing Merchandise
Chapter 16: Financial Merchandise Management
Chapter 17: Pricing in Retailing

Part Seven: Communicating with the Customer
Chapter 18: Establishing and Maintaining a Retail Image
Chapter 19: Promotional Strategy

Part Eight: Putting It All Together
Chapter 20: Integrating and Controlling the Retail Strategy
These online resources are available at no cost.
Companion Website for Retail Management: A Strategic Approach, 12th Edition