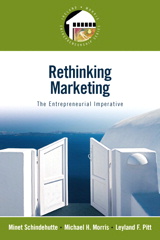 Description
This book rethinks the basic building blocks of marketing with an entrepreneurial perspective.
Asks questions suing a "what if?" compass in which the emphasis is on asking the right questions, rather than finding the right answers. For entrepreneurs looking to make sense of the many new contributions that have redefined marketing.
NOTE: The print may appear lighter in some copies due to the print method used.
Table of Contents
Part I: THE NEW MARKETING SPACE

CHAPTER 1
PICTURE THE FUTURE: THE JANUS-FACE OF TRENDS

CHAPTER 2
THE RULES HAVE CHANGED: THE EMERGENCE OF ENTREPRENEURIAL MARKETING


Part II: INNOVATE OR DIE: CREATING MARKETS AND LEADING CUSTOMERS

CHAPTER 3
THE CUSTOMER OF THE FUTURE

CHAPTER 4
DO THE DOGS LIKE THE DOG FOOD? ENTREPRENEURIAL MARKET RESEARCH

CHAPTER 5
CREATING MARKETS … AND THE PEOPLE CREATING THEM

CHAPTER 6
STRATEGIC INNOVATION AND THE MARKETER – OR, WHY THE MARKETING CONCEPT IS MISCONCEPTUALIZED

CHAPTER 7
RUNNING A DIFFERENT RACE: FROM INNOVATIVE PRODUCTS TO REVOLUTIONARY BUSINESS MODELS

Part III: THE ESSENCE: THINK, FEEL, AND DO MARKETING

CHAPTER 8
TRENDS IN CUSTOMER COMMUNICATION PRACTICES

CHAPTER 9
THE MAGIC OF MARKETING JUJU

CHAPTER 10
LESSONS FROM THE RED QUEEN

Part IV: PLAYING AT THE EDGE: THE DESIGN OF MARKETING PROGRAMS

CHAPTER 11
PRICING SECRETS OF MARKET SHAPERS

CHAPTER 12
CHANGING CHANNELS: REDEFINING DISTRIBUTION
STRATEGY

CHAPTER 13
REAL GOLD GOES TO THE BOLD: THE ENTREPRENEURIAL SALES FORCE

CHAPTER 14
MARKETING STRATEGY IN THE DIGITAL AGE – THE INTERNET
CHANGES EVERYTHING

CHAPTER 15
CUSTOMER CAPITAL: WHEN THE RELATIONSHIP COMES FIRST

Part V: HAVING AN IMPACT: THE NEW METRICS

CHAPTER 16
THE ACID TEST