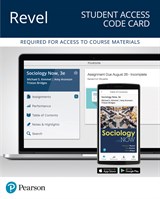 Description
For courses in Introductory Sociology

Bring the world into focus through the five lenses of iSoc
Revel™ Sociology NOW offers students a fresh new way to make sense of the social world. Reinventing their text for the 3rd Edition, authors Michael Kimmel, Amy Aronson, and Tristan Bridges introduce a contemporary paradigm called the iSoc framework which empowers students to view the world through five sociological lenses: identity, inequality, interactions, institutions, and intersections. By viewing society through these distinct but interrelated lenses, students will be able to better understand the diverse collection of sociological research, theory, concepts, and ideas – and how they are relevant in today's world. The thoroughly revised 3rd Edition offers the Pearson Originals docuseries, interactives powered by Social Explorer, and Currency windows that help connect core concepts with real-life current events.

Revel is Pearson's newest way of delivering our respected content. Fully digital and highly engaging, Revel replaces the textbook and gives students everything they need for the course. Informed by extensive research on how people read, think, and learn, Revel is an interactive learning environment that enables students to read, practice, and study in one continuous experience — for less than the cost of a traditional textbook.

NOTE: Revel is a fully digital delivery of Pearson content. This ISBN is for the standalone Revel access card. In addition to this access card, you will need a course invite link, provided by your instructor, to register for and use Revel.

Table of Contents
PART I: FOUNDATIONS OF THE FIELD
1. What Is Sociology?
2. Culture and Media
3. Society: Interactions, Groups, and Organizations
4. How Do We Know What We Know? The Methods of the Sociologist
5. Socialization
6. Crime and Deviance

PART II: IDENTITIES AND INEQUALITIES
7. Social Class and Stratification: Identity and Inequality
8. Race and Ethnicity
9. Sex and Gender
10. Age: From Young to Old
11. The Body: Health and Sexuality

PART III: SOCIAL INSTITUTIONS
12. Families
13. Education
14. Economy and Work
15. Politics and Religion
16. Sociology of Environments: The Natural, Physical, and Human World

Print Rental
Sociology Now [RENTAL EDITION], 3rd Edition
$59.99 | ISBN-13: 978-0-13-453184-7
Rent It!