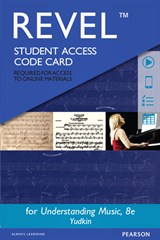 Description
REVEL for
Understanding Music
teaches students to listen to music with depth, understanding, and knowledge. Using music as a tool to exercise listening skills, it integrates lively text, clear listening guides, and hands-on videos and activities to convey the importance of listening. Through exploring and understanding different music from all around the world, REVEL for
Understanding Music
teaches students how to appreciate music concepts and styles, as well as gain important listening skills they can exercise in all areas of life.
REVEL is Pearson's newest way of delivering our respected content. Fully digital and highly engaging, REVEL offers an immersive learning experience designed for the way today's students read, think, and learn. Enlivening course content with media interactives and assessments, REVEL empowers educators to increase engagement with the course, and to better connect with students.
Table of Contents
Music Around the World
Elements of Music
The Art of Listening
The Middle Ages: 400-1400
The Renaissance 1400-1600
The Baroque Era: 1600-1750
The Classic Era: 1750-1800
Beethoven
The Nineteenth Century I: Early Romantic Music
The Nineteenth Century II: Mid- to Late-Romantic Music
The Twentieth Century and Beyond, Part I: The Classical Scene
The Twentieth Century and Beyond, Part II: Jazz, an American Original
The Twentieth Century and Beyond, Part III: Popular Music in the United States
Digital
Revel for Understanding Music -- Instant Access, 8th Edition
ISBN-13: 978-0-13-393011-5
To purchase this REVEL product, you must first receive an invitation link from your instructor. Once you receive this link, follow the instructions to register for REVEL and buy instant access via a credit card or PayPal.