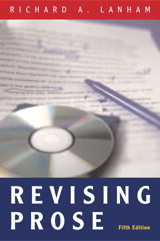 Description
This remarkable little book, intended as a supplement for any course that requires writing, models a clear, step-by-step system for creating straight-forward, concise, intelligible and readable prose.
Table of Contents
Preface.

1. Action
2. Attention
3. Voice
4. Skotison! (Intentional Obscurity)
5. Business Prose
6. Professional Prose
7. Electronic Prose
8. Why Bother?
Appendix of Terms
Print
Add to Cart
$59.99 $56.99 | ISBN-13: 978-0-321-44169-0
Free Ground Shipping.