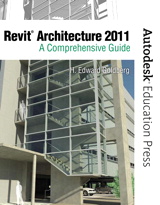 Description
For beginning and advanced courses in AutoCAD Architecture 2009.
Written from the perspective of a practicing architect, this self-paced text introduces students to the interface, commands, and features of the AutoCAD® Architecture 2009 drawing program. Organized to develop skills incrementally, this text contains numerous walk-throughs, step-by-step illustrations and over 150 hands-on exercises that acquaint users with the robust features and functions of this program. Using the author's knowledge of architecture, education and AutoCAD® Architecture 2009, the text gives students an opportunity to learn how to operate the program, improve their own productivity and apply their skills to a commercial design problem.
Table of Contents
Chapter 1 The BIM and Revit Architecture: The Building Information Model and BIM Software
Part One Getting Started
Chapter 2 Getting Started
Part Two Sections and Tutorials
Chapter 3 Walls
Chapter 4 Doors
Chapter 5 Windows
Chapter 6 Components and Families
Chapter 7 Roofs and Ceilings
Chapter 8 Floors
Chapter 9 Curtain Walls and Glazing
Chapter 10 Stairs, Railings, and Ramps (Circulation)
Chapter 11 Room and Area
Chapter 12 Dimensions, Annotations, and Detailing
Chapter 13 Structure, Levels, Grids, Columns, Beams, and Trusses
Chapter 14 Massing & Site
Chapter 15 Views
Chapter 16 Manage
Chapter 17 Modify Ribbon
Chapter 18 Rendering
Part Three Putting It All Together
Chapter 19 Tutorial Project
Index
Purchase Info ?
With CourseSmart eTextbooks and eResources, you save up to 60% off the price of new print textbooks, and can switch between studying online or offline to suit your needs.
Once you have purchased your eTextbooks and added them to your CourseSmart bookshelf, you can access them anytime, anywhere.
Buy Access
Revit Architecture 2011: A Comprehensive Guide, CourseSmart eTextbook
Format: Safari Book
$46.99 | ISBN-13: 978-0-13-510380-7