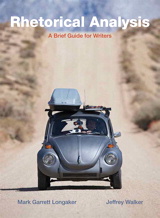 Description
CourseSmart Textbooks Online is an exciting new choice for students looking to save money. As an alternative to purchasing the print textbook, students can subscribe to the same content online and save up to 50% off the suggested list price of the print text. With a CourseSmart etextbook, students can search the text, make notes online, print out reading assignments that incorporate lecture notes, and bookmark important passages for later review. For more information, or to subscribe to the CourseSmart eTextbook, visit www.coursesmart.com.
Table of Contents
Preface
Chapter 1. Introduction to Rhetoric and Rhetorical Analysis
What is Rhetoric?
What is Rhetorical Analysis?
What is the Rhetorical Perspective?
What Can you Find in this Book?
Chapter 2 Kairos and the Rhetorical Situation
Kairos
Aspects of the Rhetorical Situation
Analysis 1: Kairos and the Rhetorical Situation in "Letter from Birmingham Jail"
Analysis 2: Volkswagen's 1960 "Why" Ad and the Historical-Cultural Context
Writing a Kairos Analysis
Student Analysis of Kairos and a Recent Documentary:
Rebecca Reilly, "The Kairos of War"
Chapter 3 Argumentation
The Classical Pisteis: Ethos, Logos, Pathos
Reasons and Evidence: the Artistic and Inartistic Pisteis
Argument and the Structure of Practical Reasoning
Classical Terms for Argument:
Enthymeme and Epicheireme
More Classical Terms: "Topics" and "Stases" of Argument
Sample Analysis: Enthymematic Argument in the First Half of "Letter from Birmingham Jail"
Writing an Argument Analysis
Student Analysis of Argument in a Video Game:
David Daniels, "Building an Electronic Empire
with Argument"
Chapter 4 Structure
Basic Principles: The Psychology of Form
Some Varieties of Form: Progressive, Repetitive, and Conventional
The Form of Argumentation: The Classical Template
Spatial Form and Information Architecture
Sample Analysis: Structure and the Classical
Template in "Letter from Birmingham Jail"
Writing a Structure Analysis
Student Analysis of Structure in a Commercial:
Haley Faulkner, "Real Beauty, Real Form: An Analysis
of Structure in the Dove 'Onslaught' Video"
Chapter 5 Style
The Virtues of Style
Diction: Word Choice
Figures of Speech and Thought
Rhythmic Composition
Delivery
Types of Style
Style and Delivery in Visual Texts: A Note
Sample Analysis: On the Styles of
Chrysler and VW
Writing a Style Analysis
Student Analysis of Style in a Televised Public Service
Announcement: Tara Hall, "Clarity and Rhythm
in a British PSA"
Chapter 6 Ideology (Logos Revisited)
Searching for Ideological Presuppositions
Searching for Ideological Overlap
Searching for Ideological Extension
Searching for Ideological Paradoxes
Sample Analysis: Paradoxical Liberty in King's "Letter"
Coda: Ideological Analysis as Cultural Analysis, or, The Fifth Rhetorical Canon of Memory
Chapter 7 Affect (Pathos Revisited)
Interpretation and Affect
How Can we Observe/Analyze Affect?
Pathemata, or What to Look for When
Analyzing Affect
Analyzing Emotional Repertoires
Sample Analysis: Emotional Repertoires Invoked by Two Print Ads
Chapter 8 Habit (Ethos Revisited)
Ethos and the Psyche
Ethical Appeal and Identification
What Makes an Ethical Appeal? Habits
An Analytic Vocabulary: Habit, the Habitus, and the Social Field
The Ironic Habitus and the "Why" Ad
Appendix A Martin Luther King, Jr.'s "Letter from Birmingham Jail"
Appendix B Chrysler Ad from April 25, 1960 Issue of Life Magazine
Appendix C Volkswagen's "Why" Ad from April 25, 1960 Issue of Life Magazine
Purchase Info ?
With CourseSmart eTextbooks and eResources, you save up to 60% off the price of new print textbooks, and can switch between studying online or offline to suit your needs.
Once you have purchased your eTextbooks and added them to your CourseSmart bookshelf, you can access them anytime, anywhere.
Buy Access
Rhetorical Analysis, CourseSmart eTextbook
Format: Safari Book
$12.99 | ISBN-13: 978-0-205-03249-5