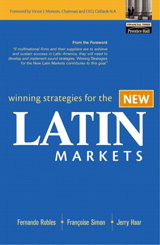 Description
Global corporations are rapidly discovering an emerging market of nearly 600 million Latin consumers in the United States and Latin America. In Winning Strategies for the New Latin Markets, three experts analyze the Latin market's unique dynamics and offer end-to-end strategies for success. They illuminate dramatic transformations in demographics, economics, local competition, regulation, technology, and culture. Then, through executive interviews and case studies, they offer insights into key strategies for every aspect of doing business: regional market expansion, market segmentation, branding, distribution, financing, and corporate structure.
Table of Contents
Foreword.
Preface.
I. THE NEW ENVIRONMENT.
1. Latin Business in the New Economy.
Macro Outlook: Economics of Uncertainty. Regional Integration Scenarios. Technology Trends. Company Strategies.
2. The Latin Consumer Markets: Convergence or Fragmentation?
Size of the Latin Market. Drivers of Buying Power in Latin Markets. Latin Market Consumption Patterns. Segmenting the Latin Market. Connectivity in Latin America. Latin Markets in the Twenty-first Century.
3. The Latin Market Competitive Landscape.
The Structure of Competition in Latin America. Multinational Firms and Corporate Strategies.
II. SECTOR-SPECIFIC STRATEGIES.
4. Building the Infrastructure Network.
Massive Infrastructure Investment Needs. Infrastructure Reforms. Investors' Expectations for Reformed Infrastructure Markets. Regional Network Strategies in Reformed Latin American Infrastructure. Telecom Argentina: A Narrow Regional Integrator. Integrator or Specialist?
5. Reaching the New Latin Consumers.
Consumer Value in Uncertain Times. Positioning to Meet Consumer Value in Latin Markets. Building Brands in Volatile and Uncertain Markets. Level of Market Aggregation. Unilever: Blending Global, Regional, and Local Strategies in Latin Consumer Food Markets. Retail Metamorphosis in Latin Markets. Integrators and Specialists in Consumer Markets.
6. Funding the Latin Market Growth.
Trends in the Financial Services Sector. Strategic Responses of Financial Institutions. Financial Firm Strategies: From Diversified Competitors to Niche Players. Grouping Strategic Responses.
7. Improving Health Services and Products.
Regional Health Profile. Health Reform. Pharmaceutical Markets: Scope and Growth. Conclusion.
III. CONCLUSION.
8. Windows of Opportunity and Winning Strategies for Latin Markets.
The New Latin Market: Latin American or American Latin? Strategy in Uncertain and Volatile Markets. Drivers of Opportunities. Windows of Opportunities. Links to the Global Economy. Strategies for Latin Markets. Winning Strategies. Brand Relevance: Key to Implementing Winning Strategies. Conclusion.
Endnotes.
Index.