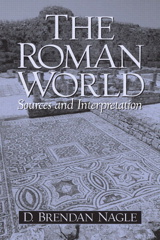 Description
For Roman History and Western Civilization courses.
This concise volume presents a selection of historical documents from the founding of Rome to its fall. All of the documents were translated from the Latin by D. Brendan Nagle, a recognized authority in Roman history. It is designed to provide students of history and civilization with a balanced selection of texts illustrating the social, cultural, political and military history of the Roman Republic and the Roman Empire. Visual Documents provide unique insight into the material culture of ancient Rome.
Table of Contents


1. Rome of the Kings.


2. Political Culture of the Roman Republic.


3. War and Warfare in the Republic.


4. Society and Culture in the Republic.


5. The Roman Revolution.


6. Augustus and the Principate.


7. The Roman Peace.


8. Religion and Culture in the Roman Empire.


9. Daily Life in the Roman Empire.


10. The Transformed Empire.

Purchase Info ?
With CourseSmart eTextbooks and eResources, you save up to 60% off the price of new print textbooks, and can switch between studying online or offline to suit your needs.
Once you have purchased your eTextbooks and added them to your CourseSmart bookshelf, you can access them anytime, anywhere.
Buy Access
Roman World, The: Sources and Interpretation, CourseSmart eTextbook
Format: Safari Book
$24.99 | ISBN-13: 978-0-13-132871-6