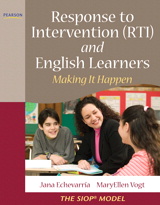 Description
Assists teachers and administrators to design effective RTI programs, using the SIOP Model, providing the appropriate type of instruction that English Learners need and deserve.
Response to Intervention (RTI) has come into its own in the second decade of the 21st century with children and adolescents who, formerly, would have been assigned to special education classes, are now finding that their academic problems and deficiencies have been lessened and overcome due to appropriate and effective intervention. However, this has not been the case for many students who are English Learners (ELs), students whose home culture differs from the ways of school and whose home language differs from the language of instruction. Too many many ELs are still being referred for special education services, whether or not they have disabilties, in large part, because many classroom teachers are ill-prepared to meet the language and academic needs of ELs. In other cases, ELs languish without appropriate assistance because of low expectations or it is thought that they just need more time to learn English.
This book was written to assist teachers and administrators to better meet the needs of the increasing group of EL students in U.S. schools, and to help educators design effective RTI programs, applying the SIOP Model, that provide the appropriate type of instruction that ELs need and deserve in elementary and secondary schools. Renowned author team Echevarria and Vogt cover RTI and address linguistic and academic issues for ELs, including socio-economic and cultural factors that impact student success. They also discuss best practices for teaching interventions to ELs using the SIOP Model, including assessments, Curriculum Based Measurement and programmatic decisions that need to be made for individual students.
Table of Contents
TABLE OF CONTENTS
PREFACE AND ACKNOWLEDGEMENTS
Chapter 1 WHAT IS RTI FOR ENGLISH LEARNERS?
RTI As An Opportunity
RTI Definition Unpackaged
Assessment and Intervention
Identify Areas of Concern and Monitor Progress
Provide Evidence-based Interventions
Identify Learning Disabilities
RTI Models
Standard Treatment Protocol
Problem-Solving Model
Hybrid Approaches
Making RTI Work
Final Thoughts
For Reflection and Discussion
Chapter 2 THE BIG PICTURE
Issues Faced by English Learners in School
Language Proficiency
Background Knowledge and Experience
Cultural Values and Norms
Factors Associated with Underachievement
Lack of Qualified Teachers
Inappropriate Teaching Practices
At-Risk School Environments
Factors Associated with Educational Success
High Expectations for All Students
Effective Teaching Practices
Relationships of Respect
RTI and Cultural and Linguistic Diversity
The Important Role of Parents
Why Don't They Come?
What Can We Do?
Parents and RTI
Final Thoughts
For Reflection and Discussion
Chapter 3 TIER 1: WHAT IS BEST PRACTICE FOR TEACHING ENGLISH LEARNERS
An Overview of Tier 1: Effective Instruction for English Learners
Universal Screening in Tier 1
Progress Monitoring
Challenges in Tier 1 Universal Screening and Progress Monitoring for English Learners
High-Quality Classroom Instruction Making Content Comprehensible for English
Learners: The SIOP Model
Components of the SIOP Model
Lesson Preparation
Research Support for the Lesson Preparation Component
Building Background
Research Support for the Building Background Component
Comprehensible Input
Research Support for the Comprehensible Input Component
Strategies
Research Support for the Strategies Component
Interaction
Research Support for the Interaction Component
Practice and Application
Research Support for the Practice and Application Component
Lesson Delivery
Research Support for the Lesson Delivery Component
Review and Assessment
Research Support for the Review and Assessment Component
Uses and Benefits of the SIOP Model
Differentiated Instruction
A Glimpse Into a Classroom with High-Quality Instruction for English Learners
Final Thoughts
For Reflection and Discussion
Chapter 4 TIER 2 INTERVENTIONS FOR ENGLISH LEARNERS by Catherine Richards
Using Data to Select Students in Need of Intervention
Curriculum-Based Measurements (CBM)
An Example of a Tier 2 Intervention Process at the Elementary School Level
Grouping Students in Small Groups for Intervention
Conducting Small Group Intervention
Content of Intervention
Methods of Delivering Instruction
Monitoring Student Progress
Reflecting on Data and Making Decisions
Final Thoughts
For Reflection and Discussion
Chapter 5 TIER 3 INTERVENTIONS FOR ENGLISH LEARNERS
What is Different About Tier 3?
Identifying a Disability
A Learning Disability is Hard to Define
Distinguishing Disability from Difference
Successful IEP Meetings
Final Thoughts
For Reflection and Discussion
Chapter 6 SPECIAL CONSIDERATIONS FOR SECONDARY ENGLISH LEARNERS
Literacy Issues for Secondary English Learners
Why Do Secondary English Learners (and Other Students) Struggle with Reading
and Writing
Implementation of RTI for English Learners at the Secondary Level
What Adolescent English Learners Need and Deserve: Effective Tier 1 Instruction
Secondary RTI for English Learners: Putting It All Together
Final Thoughts
For Reflection and Discussion
Chapter 7 SUCCESSES AND BARRIERS TO EFFECTIVE RTI IMPLEMENTATION
Principles of a Successful RTI Program
Questions to Guide RTI with English Learners
Frequently Asked Questions
Final Thoughts
Purchase Info ?
With CourseSmart eTextbooks and eResources, you save up to 60% off the price of new print textbooks, and can switch between studying online or offline to suit your needs.
Once you have purchased your eTextbooks and added them to your CourseSmart bookshelf, you can access them anytime, anywhere.
Buy Access
RTI and English Learners: Making it Work, CourseSmart eTextbook
Format: Safari Book
$31.99 | ISBN-13: 978-0-13-231743-6