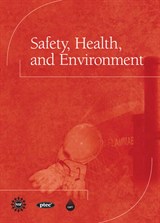 Description
This 24 chapter textbook is intended for use in high schools, community colleges, technical colleges, and universities that offer SHE courses.
Safety, Health and Environment is designed to teach students about the various safety, health and environmental issues associated with the process industries. This text includes a variety of topics including, hazard recognition, types of hazards, cyber security, engineering controls, administrative controls, personal protective equipment, safety-related equipment, first aid, and governmental regulations. Each chapter contains objectives, key terms, a summary, review questions and activities to enhance the learning experience. This text is appropriate for high schools, community colleges, technical colleges, and universities that offer safety, health and environment courses.
Table of Contents
Chapter 1: Introduction to Safety, Health and Environment
Chapter 2: Types of Hazards and their Effects
Chapter 3: Recognizing Chemical Hazards
Chapter 4: Recognizing Biological Hazards
Chapter 5: Equipment and Energy Hazards
Chapter 6: Fire and Explosion Hazards
Chapter 7: Pressure, Temperature, and Radiation Hazards
Chapter 8: Hazardous Atmospheres and Respiration Hazards
Chapter 9: Working Area and Height Hazards
Chapter 10: Hearing and Noise Hazards
Chapter 11: Construction, Maintenance, and Tool Hazards
Chapter 12: Vehicle and Transportation Hazards
Chapter 13: Natural Disasters and Inclement Weather
Chapter 14: Physical Security and Cyber Security
Chapter 15: Recognizing Ergonomic Hazards
Chapter 16: Recognizing Environmental Hazards
Chapter 17: Introduction to Hazard Controls
Chapter 18: Engineering Controls: Alarms and Indicator Systems
Chapter 19: Engineering Controls: Process Containment and Process Upset Controls
Chapter 20: Administrative Controls: Programs and Practices
Chapter 21: Permitting Systems
Chapter 22: Personal Protective Equipment and First Aid
Chapter 23: Monitoring Equipment
Chapter 24: Fire, Rescue, and Emergency Response Equipment
Appendix A: Government/Regulatory and Industry Resources
Purchase Info ?
With CourseSmart eTextbooks and eResources, you save up to 60% off the price of new print textbooks, and can switch between studying online or offline to suit your needs.
Once you have purchased your eTextbooks and added them to your CourseSmart bookshelf, you can access them anytime, anywhere.
Buy Access
Safety, Health, and Environment, CourseSmart eTextbook
Format: Safari Book
$68.99 | ISBN-13: 978-0-13-506670-6