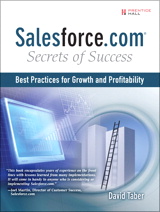 Description
Drive Better Productivity and Increase Saleswith Salesforce.com–Starting Now
Discover Real-World Best Practices—Without Paying Expensive Consultants
You're investing in Salesforce.com for one reason: to drive major performance improvements across your entire organization. Salesforce.com® Secrets of Success will help you do just that. Drawing on his experience with dozens of deployments, author David Taber offers expert guidance on every aspect of Salesforce.com deployment, with results-focused best practices for every area of the organization touched by Salesforce.com, including sales, marketing, customer service, finance, legal, and IT. This is information you'd otherwise have to pay a consultant $300/hour to get...information you won't find in any other book!
Taber walks you through developing a comprehensive and effective implementation strategy, followed by tactics and specifics to overcome every challenge you face, including internal politics. Through this book and its companion Web site, www.SFDC-secrets.com, Taber provides questionnaires, step-by-step guides, and extensive resources–all part of the Revenue Overdrive™ system that gives your organization maximum results from Salesforce.com.
Achieve higher end-customer satisfaction and dramatic sales productivity gains

Use the SFA Maturity Model™ to assess readiness, fill gaps, and gain early, deep user adoption

Overcome "people, product, and process" pitfalls that can limit the value of Salesforce.com

Learn which tools, add-ons, features, and extensions are right for your implementation
This book's start-to-finish roadmap for success can be used by companies of all sizes in all industries–with specific chapters for executives, team leaders, implementation team members, developers, and users throughout the business.
Table of Contents
Acknowledgments xix
About the Author xxi
Introduction xxiii
The Promise of CRM xxiii
Achieving the Promise of CRM xxv
Do You Need an SFA System or a CRM System? xxvii
When Salesforce.com Is the Best Choice–and When It Isn't xxix
How to Use This Book xxx
Executive Summary 1
What Every CxO Needs to Know About Salesforce.com 1
Why Are You Looking at an SFA/CRM System? 3
Keeping the Big Picture in Focus 4
Driving Toward Project Approval 6
Once the Project Is Under Way 12
Deployments and the Adoption Cycle 17
After Deployment: Using SFDC to Help Drive the Ship 23
Essential Tools for the Executive 27
Chapter 1: Planning Ahead 29
Getting to Business Value 29
Developing a Model of Your Customer Relationship 30
Setting Business Goals 32
Setting Requirements: Who, Where, What, and Why 32
Organizing and Publishing Project Documents 36
Prioritizing Requirements 37
When Requirements Should Bend 41
Knowing Your Boundaries 41
Making the Business Case 44
Quantifying the Return 49
Developing a Straw-Man Schedule 52
Avoiding the Big Bang Project 58
Outsourcing 60
Setting Executive Expectations 62
Getting the Right Resources Committed 64
Chapter 2: Reports and Data 67
For Users, Seeing Is Believing 67
Start with What You Have 68
Scoping the System via Report Mock-Ups 71
The Crux: Semantics 73
Reports–Inside Versus Outside 74
Scoping the System via User Screen Design 76
A Guided Tour of the SFDC Object Model 78
What's in a Namespace? 82
SFDC's Data Requirements 84
Historical External Data 94
Chapter 3: Preparing Your Data 97
Data Pollution 97
Getting the Lay of the Land 98
Migrating Data from an Existing SFA/CRM System 98
Migrating Data from Other Systems 108
Your Big Weekend: Doing the Import 109
The Morning After: Deduping Records 110
The Morning After the Morning After: Enriching Data 114
The Ultimate Job Security 116
Creating a Cost Model for Clean Data 118
Chapter 4: Implementation Strategy 119
Before You Begin 119
Big Bangs and Waterfalls 120
The Agile Manifesto 121
You Really Have to Plan: Agile Development Is Not Enough 123
Wave Deployment 124
What's in a Wave? 125
Planning the Sequence of Waves: WaveMaps 126
Collecting Resources for a Wave 133
Starting the Wave 136
As a Wave Takes Shape 140
Dirty Little Secret: The Data Are Everything 142
During the Wave: Real-Time Scheduling 143
Kicked Out of a Wave 146
Wave Endgame 147
Deployment 148
Getting Ready for the Next Wave 151
Post-Implementation Implementation 152
Chapter 5: People and Organizational Readiness 155
Adoption Is Everything 155
Using the SFA Maturity Model 156
Part I: What Is Management Trying to Achieve, and
How Hard Will It Be? 157
Part II: Is Your Organization Ready for Its Target Level? 165
Part III: How Big Is the Gap? 173
Understanding the Next Wave of Users 174
User Training 177
What User Readiness Means for Deployment 179
Post-Deployment User Frustration 179
How Many Administrators Does It Take to Screw in a Light Bulb? 181
Chapter 6: Working the Politics 183
Technology Is Not the Problem 183
It's Not Just Big Organizations 183
Who's the Champion? 184
Who Pays for the System? 188
Who Will Own the System? 190
Who Owns the Data Now? 192
Dealing with Review Committees 197
Identifying and Dealing with Opposition to the Project 198
The Politics of System Adoption 200
Identifying and Dealing with Adoption Problems 204
Indoctrination 206
The Politics of Restriction 206
Chapter 7: Products You Will Need 209
SFDC Is a Platform, Not Just a Product 209
Don't Overdo It 211
First, Seek to Understand 212
Next, Weigh Your Options 217
Essential Toys: Featurettes 221
Essential System Administrator Tools 223
Essential Add-Ons for the Marketer 226
Essential Features for Sales Management 229
Essential Tools for Support 234
Essential Extensions for Finance 236
Essential Features for the Executive 238
Chapter 8: Optimizing Business Processes 239
The Top-Down Perspective 239
What Is a Business Process? 240
How Do Business Processes Fit Together? 241
Identifying Which Business Processes You Need to Think About 242
Analyzing Business Processes 252
Example Business Process Analysis 256
How Much Should Be Changed? 261
Best Practices with Business Process Redesign 261
Making the Changes 265
After the Changes Are Made 266
Chapter 9: Best Practices for Sales 267
"Universal" Best Practices 267
Define and Document the Sales Model 270
Inside Sales 273
Sales Representatives 289
Field Sales Engineers or Product Specialists 301
Sales Management 302
Chapter 10: Best Practices in Marketing 325
Marketing Organizations 325
Lead Generation and Collection 326
Lead Generation Campaigns 334
Lead Handling 339
Lead Cultivation and Nurturing 351
Lead Qualification and Conversion 352
Partners 353
Customer References 353
Public Relations 356
Product Management/Product Marketing 357
Marketing System Administrator 360
Marketing Executives 362
Chapter 11: Best Practices in Customer Support 369
Support Organizations and SFDC 369
Universal Support Best Practices 371
The Customer Order Support Center 374
Order Expediting, Distribution, and Shipping 376
Technical and Warranty Support 377
The Customer Help Desk 381
Professional Services 382
Chapter 12: Best Practices in Finance and Legal 385
Driving the Investment Decision 385
Keeping Expectations Reasonable 388
The Path to Project Success 389
Accounting and Ongoing Operations 390
Mergers, Integrations, and Divestitures 399
Fundraising 400
Legal 401
Human Resources 402
Chapter 13: Best Practices in IT 405
Level of IT Engagement 405
Skills IT Will Need 408
Planning for the Implementation 409
Implementation 416
Ongoing Usage 421
Appendix A: Tools to Prioritize Requirements 431
Prioritizing Project Requirements 431
The Delphi Method 432
Prioritize via Investment 433
Weakest/Strongest Elimination 434
Popular Votes 437
Appendix B: Example Requirements Statements 439
Example Project Requirements: Smaller Company 439
Example Project Requirements: Larger Company 441
Index 447
Purchase Info
ISBN-10: 0-13-715428-3
ISBN-13: 978-0-13-715428-9
Format: Safari PTG
This publication is not currently for sale.