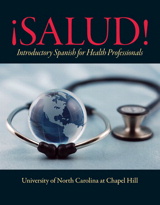 Description
A complete introductory Spanish course for Healthcare Professionals, Salud! is built around an interactive Video program, allowing students to experience realistic conversation in Spanish in a medical setting. The video is supported by a wealth of explanations, activities, and practice in the textbook, workbook, and MySpanishLab.
Table of Contents
Greeting the Patient
Making Appointments
Discussing How Patients Feel
The Daily Routine
"Where Does it Hurt?"
Talking About Doubts and Fears
Discussing When Patients Go to the Hospital
Discussing Patients' Emotions
Taking a Patient's History
Discussing Past and Present Symptoms with Patients
"Have You Ever…?"
Discussing Hypothetical Situations with Patients
Purchase Info ?
With CourseSmart eTextbooks and eResources, you save up to 60% off the price of new print textbooks, and can switch between studying online or offline to suit your needs.
Once you have purchased your eTextbooks and added them to your CourseSmart bookshelf, you can access them anytime, anywhere.
Buy Access
¡Salud!, Introductory Spanish for Health Professionals, Coursesmart eTextbook
Format: Safari Book
$50.99 | ISBN-13: 978-0-205-79606-9