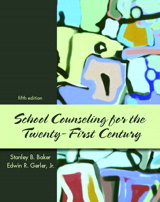 Description
Upon opening this textbook for the first time and glancing at the table of contents, students are presented with chapter titles that reflect all the crucial subject matter of what it takes to be a school counselor. Examples of national models and paradigms, all designed to make the profession manageable and understandable, are on display throughout the book. The authors have incorporated the human side of school counseling at the core of every chapter, hoping not to block the spirit of caring for people by what at first glance might appear to be academic jargon.
This book is designed as a means for graduate students and others to lend their voices to the issues confronting school counselors and, most importantly, to chart the course for invention in school counseling. The authors believe that the school counseling profession is enriched when the voices of aspiring professionals meet the voices of experience, with the aim of creating new ways to serve.
Table of Contents
CHAPTER 1 The School Counseling Profession
CHAPTER 2 School Counseling and the Challenge of History
CHAPTER 3 A Comprehensive Model for Professional School Counseling: A Balanced Approach
CHAPTER 4 Accountability in School Counseling
CHAPTER 5 Legal and Ethical Responsibilities in School Counseling
CHAPTER 6 Advocacy in School Counseling
CHAPTER 7 Leadership and Collaboration in School Counseling
CHAPTER 8 Prevention Programming in School Counseling: Serving All Students Proactively
CHAPTER 9 Individual and Group Counseling: Responding to Selected Needs in Schools
CHAPTER 10 Referral and Coordination in School Counseling
CHAPTER 11 School Counselor Consulting: A Bridge Between Prevention and Intervention
CHAPTER 12 Assessment in School Counseling
CHAPTER 13 Inventing a School Counseling Program Online
CHAPTER 14 Beyond the Training Program: A School Counseling Career
APPENDIX A Standards for School Counseling Programs
APPENDIX B Lesson Outlines for Succeeding in School
APPENDIX C Key Components of the National Standards for School Counseling Programs
APPENDIX D Presidential High School: MEASURE of Success
APPENDIX E XYZ Closing the Gap Results Report
APPENDIX F ACA Code of Ethics
APPENDIX G Ethical Standards for School Counselors
APPENDIX H Multicultural Counseling Standards
REFERENCES
AUTHOR INDEX
SUBJECT INDEX
Purchase Info ?
With CourseSmart eTextbooks and eResources, you save up to 60% off the price of new print textbooks, and can switch between studying online or offline to suit your needs.
Once you have purchased your eTextbooks and added them to your CourseSmart bookshelf, you can access them anytime, anywhere.
Buy Access
School Counseling for the 21st Century, CourseSmart eTextbook, 5th Edition
Format: Safari Book
$59.99 | ISBN-13: 978-0-13-501173-7