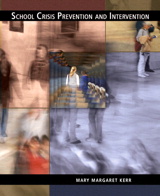 Description
Preparation. Prevention. Intervention.
What can you do to prepare for a potential crisis in your school? This daunting question is addressed in Mary Margaret Kerr's
School Crisis Prevention and Intervention
. As a respondent to over 1,000 school-related crises, Kerr provides a realistic and detailed guide to approaching school crises at all stages, from preparation and prevention to intervention and recovery. Following a four-phase conceptual framework, Kerr walks you through the planning and implementation of crisis prevention and response and provides you with the tools necessary to develop a crisis prevention and intervention toolkit specific to your school.
Table of Contents
1. An Overview of School Crisis Prevention and Intervention
A Model for School Crisis Prevention and Intervention

Mitigation/Prevention

Crisis Preparation

Crisis Response

Recovery
2. Crisis Planning
Case Study, Part I

The Goals of Crisis Planning

Developing Crisis Policies

Elements of a Comprehensive Crisis Plan

Policy and Procedures: An Illustration

Common Problems in Crisis Planning

Technology's Role in Crisis Planning
3. Crisis Team Preparation
Case Study, Part I

Crisis Team Members

Initial Crisis Team Training

Contents of a Crisis Response "Go-kit"

Drills

Initial Calls and Briefings

Refresher Training

Common Problems in Crisis Team Preparation

Evaluating the Response and Improving the Plan

Supporting a Crisis Team
4. Crisis Communications
Case Study, Part I

The Goals of Crisis Communications

Preparing for Crisis Communications

Using Technology to Facilitate Initial Crisis Communications

Communications During a Crisis

Informing School Personnel

Informing Students

Informing Parents

Rumor Control

Working with Media Representatives
5. Prevention, Mitigation, and Response for Accidents and Illnesses
Case Study, Part I

Introduction

Assessing School Health Conditions

Preventing Accidents on the Way To and From School

Preventing Accidents at School

Environmental Hazards

Respiratory Emergencies

Risky Behaviors

Suicidal Behavior

Crisis Intervention for a Medical Emergency

Special Circumstances
6. Prevention, Mitigation, and Response for Violence
Case Study, Part I

Introduction

School Violence Prevention

Bullying or Peer Harassment

Individual Crisis Responses

School-wide Crisis Responses

Supporting Students After a Violent Incident
7. Prevention, Mitigation and Response for Disasters
Case Study, Part I

Disaster Recovery: Acknowledgement, Expression, and Reengagement

Typical Reactions to Disasters

Supporting Disaster Victims Through School-Based Counseling
8. Psychological Supports in a Crisis
Case Study, Part I

Introduction

Understanding the Traumatic Experience

School-Based Supports for Students

Acute Stress Reaction Disorder

Post-Traumatic Stress Disorder (PTSD)

Traumatic Grief

Supporting Students and Their Families
9. Postvention Following a Death
Case Study, part I

Postvention Following Suicide: Preventing Contagion

An Overview of the Postvention Process

Verifying the Death

Contacting the Victim's Family

Following the Schedule of the Deceased

Group Interventions

One-Time Educational Support Group

Individual Screening

Funeral Plans

Postvention in Other Schools

Communications

Supporting the Postvention Team

Evaluation and Follow-Up

Memorials

Graduation Activities After a Death

Anniversary Dates
10. Supporting School Crisis Responders
Case Study, Part I

Introduction

Risk Factors for Burnout

Burnout, Compassion Fatigue

Supporting Crisis Responders

The Paradoxical Rewards of Crisis Responding
Purchase Info ?
With CourseSmart eTextbooks and eResources, you save up to 60% off the price of new print textbooks, and can switch between studying online or offline to suit your needs.
Once you have purchased your eTextbooks and added them to your CourseSmart bookshelf, you can access them anytime, anywhere.
Buy Access
School Crisis Prevention and Intervention, CouseSmart eTextbook
Format: Safari Book
$17.99 | ISBN-13: 978-0-13-713253-9