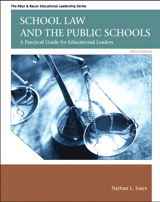 Description
School Law and the Public Schools is a practical, easy to read, comprehensive guide to the legal issues facing public schools in the U.S. today. An essential reference for all teachers, educational leaders, and policymakers at all levels, the book is organized and written in a style that is accessible to all, even those with little or no knowledge of the legal issues in education.
Table of Contents
CONTENTS
Preface
Chapter 1 Legal Framework Affecting Public Schools
Chapter 2 Religion and the Public Schools
Chapter 3 Student Rights and Restrictions
Chapter 4 National Security and School Safety
Chapter 5 Individuals with Disabilities
Chapter 6 School Personnel and School District Liability
Chapter 7 Liability and Student Records
Chapter 8 Teacher Freedoms
Chapter 9 Discrimination in Employment
Chapter 10 Recruitment, Tenure, Dismissal, and Due Process
Chapter 11 The Instructional Program and School Attendance
Chapter 12 School Desegregation
Chapter 13 Public School Finance
Chapter 14 The Constitution of the United States of America
Glossary
Index
This title is also sold in the various packages listed below. Before purchasing one of these packages, speak with your professor about which one will help you be successful in your course.
Package ISBN-13: 9780132947329
Includes this title packaged with:
Essential Skills for Effective School Leadership
Frank Siccone
$135.60 | Add to Cart
Package ISBN-13: 9780132947497
Includes this title packaged with:
Case Studies on Educational Administration, 6th Edition
Theodore J. Kowalski
$178.60 | Add to Cart
Package ISBN-13: 9780132960779
Includes this title packaged with:
School Law: What Every Educator Should Know, A User-Friendly Guide
David Schimmel, Louis Fischer, Leslie R. Stellman
$175.00 | Add to Cart
Purchase Info
ISBN-10: 0-13-707275-9
ISBN-13: 978-0-13-707275-0
Format: Book