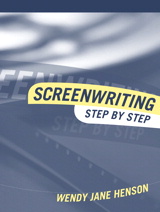 Description
Screenwriting: Step by Step is user-friendly basic introduction to successful screenwriting for the student and novice screenwriter. The text covers twelve steps to good screenwriting. It teaches students how to choose a theme, establish a central conflict and write a story that works as drama. The book is divided into two sections: "First Steps" which teaches students the essentials of writing drama; and "Next Steps" which teaches the essentials of writing drama expressly for film. The author's wealth of real-world experience is evident in the text's practical advice to beginning screenwriters.
Table of Contents
Each chapter concludes with "Exercise."

THE FIRST SIX STEPS.
Introduction: Learning to Write Drama.

1. Format.
The Writer's First Draft.
Launching Your Text.
Special Circumstances.
Breaking the Mold.
2. Character.
The Magic If.
The Glory That Was Greece.
Putting My Foot In It.
3. Theme.
Theme Statements.
Templates for Theme Statements.
4. Action.
Understanding Dramatic Action.
Doing Dramatic Action.
Tell-ing vs. Do-ing.
Back Story Blues.
5. Structure.
Screenplay Length.
The Turning Point Tango.
Applying the Principles.
The Dramatic Premise.
6. Review and Rewrite.
Cutting to Bare Essentials.
Get Rid of Gobbledygook.
THE NEXT SIX STEPS.
Introduction: Writing Drama for Film.
1. Act Two.
The Dynamics of Action.
Writing the Master Scene.
The Act Two Turning Point.
2. Character Arc.
Keeping the Faith.
Helpful Hints.
3. Subplot.
The "A" Story & the "B" Story.
The Acid test.
4. Subtext.
Visual Metaphor.
Action Subtext.
Dialogue Subtext.
5. Act Three.
Endings to Avoid.
The Big Finish.
The Teacher's Last Gasp.
6. Opening Doors.
Professional Attitude.
Body of Work.
Proper Presentation.
Appendix.
Bibliography.
Recommended Reading.
Recommended Internet Sites.
Sample Title Page.
Sample Script Pages.
Format Layout Grid.
Author's Biography.