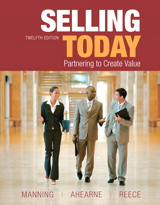 Description
For courses in Sales and Personal Selling.
A hands-on approach to the sales skills students need in order to create and deliver superior value to customers.
In today's consumer-focused business world, professional sales skills are an important asset for students to have. To help students enhance these skills, Selling Today: Partnering to Create Valueprovides current academic topics along with extensive opportunities for application.
The new edition provides an up-to-date and cutting-edge treatment of the field, and incorporates more "learn by doing" materials to equip students with hands-on experience.
Table of Contents
Chapter 1. Relationship Selling Opportunities in the Information Economy
Chapter 2. Evolution of Selling Models that Complement the Marketing Concept
Chapter 3. Developing a Relationship Strategy
Chapter 4. Communication Styles: A Key to Adaptive Selling Today
Chapter 5. Ethics: The Foundation for Relationships in Selling
Chapter 6. Developing a Product Strategy
Chapter 7. Product-Selling Strategies that Add Value
Chapter 8. The Buying Process and Buyer Behavior
Chapter 9. Developing and Qualifying a Prospect Base
Chapter 10. Approaching the Customer with Adaptive Selling

Chapter 11. Determining Customer Needs with a Consultative Questioning Strategy
Chapter 12. Creating Value with the Consultative Presentation
Chapter 13. Negotiating Buyer Concerns
Chapter 14. Adapting the Close and Confirming the Partnership
Chapter 15. Servicing the Sale and Building the Partnership
Chapter 16. Management of Self and Others
Chapter 17. Management of the Sales Force
Purchase Info ?
With CourseSmart eTextbooks and eResources, you save up to 60% off the price of new print textbooks, and can switch between studying online or offline to suit your needs.
Once you have purchased your eTextbooks and added them to your CourseSmart bookshelf, you can access them anytime, anywhere.
Buy Access
Selling Today, CourseSmart eTextbook, 12th Edition
Format: Safari Book
$109.99 | ISBN-13: 978-0-13-210988-8