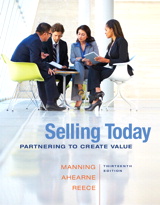 Description
For courses in Sales and Personal Selling.
Extensive, real-world applications, carefully integrated with current personal selling concepts.
Selling Today: Partnering to Create Value helps students understand the value of developing their personal selling skills by exposing them to a careful integration of personal selling academic theory and real-world applications. And with the largest number of "learn by doing" materials available in any personal selling text, Manning/Ahearne/Reece offers instructors a variety of teaching tools to strengthen the learning process. As the developed nations of the world transition from a production focus to a sales-and-service focus, this cutting-edge new edition prepares students to succeed as members of a new generation of businesspeople.
MyMarketingLab for Selling Today is a total learning package. MyMarketingLab is an online homework, tutorial, and assessment program that truly engages students in learning. It helps students better prepare for class, quizzes, and exams–resulting in better performance in the course–and provides educators a dynamic set of tools for gauging individual and class progress.
This program will provide a better teaching and learning experience–for you and your students. Here's how:

Improve Results with MyMarketingLab: MyMarketingtLab delivers proven results in helping students succeed and provides engaging experiences that personalize learning.
Help Students Apply Concepts: The Reality Selling Today Videos–which feature eleven role-play scenarios–allow students to assume the role of a salesperson in selling scenarios that are relevant in today's competitive environment.
Encourage Critical Thinking: Participation in an exciting business entitled Gra Issues provides students with an introduction to a range of real-life ethical dilemmas, and it stimulates in-depth thinking about the ethical consequences of their decisions and actions.
Note: If you are purchasing the standalone text or electronic version, MyMarketingLab does not come automatically packaged with the text. To purchase MyMarketingLab, please visit: www.MyMarketingLab.com or you can purchase a package of the physical text + MyMarketingLab by searching the Pearson Higher Education web site. MyMarketingLab is not a self-paced technology and should only be purchased when required by an instructor.
Table of Contents
Preface xix
Acknowledgments xxvii
About the Authors xxxi
PART 1 Developing a Personal Selling Philosophy 3
Chapter 1 Relationship Selling Opportunities in the Information
Economy 4
Chapter 2 Evolution of Selling Models That Complement the Marketing
Concept 29
PART 2 Developing a Relationship Strategy 47
Chapter 3 Ethics: The Foundation for Partnering Relationships That Create
Value 48
Chapter 4 Creating Value with a Relationship Strategy 71
Chapter 5 Communication Styles: A Key to Adaptive Selling Today 89
PART 3 Developing a Product Strategy 113
Chapter 6 Creating Product Solutions 114
Chapter 7 Product-Selling Strategies That Add Value 132
PART 4 Developing a Customer Strategy 151
Chapter 8 The Buying Process and Buyer Behavior 152
Chapter 9 Developing and Qualifying Prospects and Accounts 172
PART 5 Developing a Presentation Strategy 199
Chapter 10 Approaching the Customer with Adaptive Selling 200
Chapter 11 Determining Customer Needs with a Consultative Questioning
Strategy 223
Chapter 12 Creating Value with the Consultative Presentation 247
Chapter 13 Negotiating Buyer Concerns 271
Chapter 14 Adapting the Close and Confirming the Partnership 293
Chapter 15 Servicing the Sale and Building the Partnership 311
PART 6 Management of Self and Others 331
Chapter 16 Opportunity Management: The Key to Greater Sales
Productivity 332
Chapter 17 Management of the Sales Force 350
Appendix 1 Selling Today: Partnering to Create Value–Training Videos 369
Appendix 2 Regional Accounts Management Case Study 393
Appendix 3 Partnership Selling: A Role-Play/Simulation for Selling Today 417
Endnotes 485
Glossary 503
Name Index 509
Subject Index 513
Purchase Info ?
With CourseSmart eTextbooks and eResources, you save up to 60% off the price of new print textbooks, and can switch between studying online or offline to suit your needs.
Once you have purchased your eTextbooks and added them to your CourseSmart bookshelf, you can access them anytime, anywhere.
Buy Access
Selling Today: Partnering to Create Value, CourseSmart eTextbook, 13th Edition
Format: Safari Book
$109.99 | ISBN-13: 978-0-13-376635-6