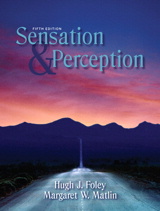 Description
Sensation and Perception, Fifth Edition maintains the standard of clarity and coverage set in earlier editions, which make the technical scientific information accessible to a wide range of students. Retaining its traditionally clear writing style, this new edition boasts a thoroughly revised art program and over a thousand new references (many from the past few years). In addition, the book includes thirteen In-Depth sections, each of which explores a current "hot" research topic to provide a sense of how researchers ask questions with subjects varying from the eye movements involved in reading to the impact of odors (e.g., pheromones) on behavior. On-line resources provide both students and educators with demonstrations and additional information, including research that will appear after the book's publication. Above all, two professors who have received national awards for their teaching are fully responsible for the content and organization of the text. As a result, it features strong pedagogy, abundant student-friendly examples, and an engaging conversational style.
Table of Contents
Chapter 1: Introduction
Chapter 2: Research Methods
Chapter 3: The Visual System
Chapter 4: Basic Visual Functions
Chapter 5: Visual Pattern Perception
Chapter 6: Distance and Size Perception
Chapter 7: Color
Chapter 8: Motion
Chapter 9: The Auditory System
Chapter 10: Basic Auditory Functions
Chapter 11: Auditory Pattern Perception
Chapter 12: The Skin Senses
Chapter 13: The Chemical Senses: Taste and Smell
Chapter 14: Perceptual Development
Purchase Info ?
With CourseSmart eTextbooks and eResources, you save up to 60% off the price of new print textbooks, and can switch between studying online or offline to suit your needs.
Once you have purchased your eTextbooks and added them to your CourseSmart bookshelf, you can access them anytime, anywhere.
Buy Access
Sensation and Perception, CourseSmart eTextbook, 5th Edition
Format: Safari Book
$68.99 | ISBN-13: 978-0-205-65437-6