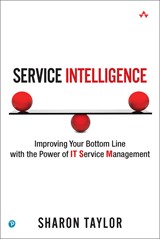 Description
This is the Safari online edition of the printed book.
Get the Right IT Services, on the Right terms, Without Hassles or Overpaying
To gain the full benefits of technology–and avoid the staggering costs of technology failure–you must manage IT with vision, direction, and expertise. Only one set of methods is robust enough to do this: IT Service Management (ITSM). In Service Intelligence, ITSM pioneer Sharon Taylor shows business managers how to make the most of it. Step by step, you'll learn how to manage service quality, anticipate vulnerabilities, improve reliability, and link IT directly to business performance.
Taylor explains ITSM from a true business point of view, cutting through jargon and helping you drive value without becoming overly technical. She gives you powerful tools for negotiating IT services more effectively, improving IT ROI, and escaping "captivity" to either internal or external IT providers. Coverage includes
Recognizing what excellent IT service looks like and assessing what you're getting now

Selecting the best IT service providers and services for your needs

Spotting and rectifying trouble with internal or external supplier relationships

Making sure you don't pay for services you don't need

Negotiating services, requirements, levels, price, quality, and delivery

Leveraging ITSM practices without losing focus on the business

Creating business-focused service reports and scorecards that focus on what matters most
Table of Contents
Introduction 1
Why Read This Book? 2
Illuminating Your Vulnerabilities 4
Capitalizing on Your Strengths 5
ITSM—In Good Company 5
Chapter 1 ITSM 101: From Data to Wisdom 7
ITSM—Grass Roots 7
ITSM—20/20 Hindsight 9
IT Governance 11
IT Compliance and Audit 14
International Standards 16
ITIL Service Management Practices 19
Maturing ITSM practices 21
Endnotes 22
Chapter 2 ITSM: The Business Asset 25
The Roadmap 26
IT Governance—What to Look For 37
IT Compliance and Audit—Reasons to Have It 40
IT Service Practices 45
Endnotes 54
Chapter 3 The Service 55
The Anatomy of a Service—Building the Services You Want 55
Service Ingredients 56
We'll Have What They're Having, Please! 57
Service Catalog 58
The Service Agreement 62
Chapter 4 The IT Service Provider . 69
Types of ITSP 69
ITSP Competences 74
ITSP Sourcing 75
What Should Influence Your Sourcing Decisions? 79
Chapter 5 The Negotiation 81
Decision Styles 82
Negotiation Steps 86
Agree Upon the Objectives 88
The Service Contract 90
Chapter 6 The Service Agreement 95
Core Service Agreements 96
Service Package Agreements 96
Service Description 97
Service Hours 97
Customer Support 99
Management of Incidents 100
Management of Problems 102
Change Management 103
Service Reporting 104
Service Complaints 105
Service Reviews 106
Chapter 7 The Partnership in Action 109
The Partner Compass 109
Service Monitoring 115
Identifying Trigger Points 117
Service Roles 119
Chapter 8 Service Performance in Action 127
Service Performance Indicators 127
Performance Dashboards—A Picture Paints a Thousand Words 137
Chapter 9 The Bottom Line 143
Common Cents 143
Transformations 145
Your Bottom Line 147
Appendix A IT Strategy Template 149
Appendix B Service Contract Template 157
Appendix C Service Agreement Template 165
Appendix D References for Further Reading 173
Index 177