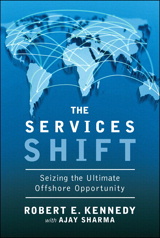 Description
"Kennedy has artfully integrated the phenomenon of offshoring services in the global competitiveness agenda of firms. His insights on the key economic drivers and trends paint a picture of the potential and the pitfalls of this phenomenon. No manager can afford to ignore this shift. All managers may want to read, understand, and ride the competitive benefits of this shift."
—C.K. Prahalad, Paul and Ruth McCracken Distinguished University Professor, Ross School of Business, University of Michigan, author of The Fortune at the Bottom of the Pyramid
"This is a must read guidebook for business leaders who want a global competitive advantage. The Services Shift not only maps the current terrain, but more importantly, provides where the world is headed and what it will take for businesses to win tomorrow by globalizing services. This is a well researched book with very practical lessons for winning the offshoring battle."
—Noel Tichy, coauthor (with Warren Bennis) of Judgment: How Winning Leaders Make Great Calls, and Professor of Management and Organizations at the University of Michigan Ross School of Business
"Global Sourcing of Services is a powerful source of competitive advantage as economic borders become thinner... Kennedy pulls up the curtain and explains the what, why, and where of offshoring. His work with both providers and customers illuminates both the potential and the challenges of global sourcing. The Services Shift provides insights on the shifting business paradigms. This book cuts through the rhetoric and provides managers practical advice. A must read!!!"
—Anurag Jain, Managing Director, Asia Pacific; President for Applications Solutions (AS); and President of Insurance & Business Process Solutions (IBPS) for Perot Systems
"If you found that Tom Friedman's The World Is Flat raised interesting issues but didn't connect them to your business, The Services Shift is for you. It appeals to both the strategist and the practitioner. It covers the range of key impacts when services shift offshore—economic, social, political, organizational, and the human factor—talent. Kennedy [and Sharma] have written an excellent book, clearly written by practitioners and not academic theorists. It is also extremely practical, with penetrating insights into the firms leading this trend, and real tools to help you analyze your business processes. The Services Shift is a comprehensive, thoughtful, and immensely readable book. I recommend it for every manager who faces global competition."
—Mark Hodges, Chairman and Cofounder, EquaTerra, Inc.
"With the air thick with debate about 'shipping jobs overseas,' 'offshoring,' 'race to the bottom,' and 'outsourcing,' The Services Shift could not come at a more propitious time. Bob Kennedy's book offers both a thoughtful and practical treatment of this critical phenomena, which will only accelerate in the coming years, especially in the services sector. Whether you are a corporate manager, a government policymaker, or a labor activist, you will find this book useful in making the globalization game pay off for all constituencies."
—Stuart L. Hart, S.C. Johnson Chair in Sustainable Global Enterprise, Cornell University
By now, most business people, pundits, and politicians in the United States and other developed nations have come to grips with the phenomenon of manufacturing jobs moving offshore: The process is variously referred to as "outsourcing" or "offshoring." But a far bigger wave of change is approaching the shores of those same developed nations: the globalization of services. Where are the jobs going? Which companies benefit—or could benefit? How exactly does services offshoring work? How do you "get in the game"? Who makes a good partner?And what are the policy implications? The Services Shift answers all these questions, and more, offering powerful insights for managers, public policymakers, and citizens alike. Leading researchers Robert E. Kennedy and Ajay Sharma reveal how services offshoring works in both industries and individual companies, and show how to define and implement realistic services-sourcing goals for your organization. You'll learn who's involved in services offshoring, understand leading business models, and tour the main geographical centers—from China and India to Hungary, Russia, Morocco, Brazil, South Africa, and Mauritius. Drawing on detailed interviews with participants, the authors review the management skill sets associated with successful services offshoring. Next, they assess policy initiatives in both developing and developed countries, including U.S. proposals aimed at restricting the offshoring of services. Finally, they preview the newest trends in services globalization, helping you prepare for the world as it will be—next year, five years from now, and in a decade.
Services offshoring: what's different, what's the same?
How the offshoring of services resembles the offshoring of manufacturing—and the important ways it differs
Defining a realistic framework for services offshoring
How to set clear goals, define what to offshore, and then execute successfully
Touring the offshore universe: models, locations, activities, and beyond
Understanding all your options—and their tradeoffs and implications
Understanding the broader political and economic implications
How governments are likely to act—on both ends of the provider-to-consumer spectrum—and how that will impact you
Table of Contents
Acknowledgments xv
About the Authors xix
Introduction 1
Chapter 1: Globalization of Services: What, Why, and When 17
Chapter 2: The Economics and Drivers of Offshoring 49
Chapter 3: Making It Real 89
Appendixes for Chapter 3 135
Appendix 3A 135
Locating a Task on the Process Decomposition Compass
Appendix 3B 136
Assessing the Feasibility, Value, and Risk of Potential Outsourcing Efforts
Appendix 3C 138
Assessing the "Offshoreability" of Potential Tasks and Processes
Appendix 3D 140
What's Typically Covered in an SLA?
Chapter 4: The Supply Side 143
Chapter 5: Shifting Skill Sets 175
Chapter 6: The Services Shift: Policy Implications 199
Chapter 7: Looking Ahead 245
Appendixes for Chapter 4 263
Appendix 4A 263
Country Attractiveness
Appendix 4B 264
Country Notes
Appendix 4C 272
Country Profiles
Index 317
Purchase Info
ISBN-10: 0-13-264345-6
ISBN-13: 978-0-13-264345-0
Format: eBook (Watermarked)?
This eBook includes the following formats, accessible from your Account page after purchase:
EPUBThe open industry format known for its reflowable content and usability on supported mobile devices.
MOBIThe eBook format compatible with the Amazon Kindle and Amazon Kindle applications.
PDFThe popular standard, used most often with the free Adobe® Reader® software.
This eBook requires no passwords or activation to read. We customize your eBook by discretely watermarking it with your name, making it uniquely yours.
Includes EPUB, MOBI, and PDF
$39.99 $31.99
Add to Cart