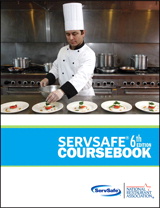 Components of the Package:
NEW MyLab ServSafe with Pearson eText -- Access Card -- for ServSafe Coursebook, 6th Edition
By . . National Restaurant Association
ServSafe CourseBook with Answer Sheet, 6th Edition
By . . National Restaurant Association
Description
Delivering comprehensive training of key food safety concepts, SERVSAFE COURSEBOOK is the ideal solution for the academic setting, multiple-day training or individuals in need of more extensive food safety training. The content in ServSafe Coursebook goes beyond the principles found in ServSafe Manager Book (formerly Essentials) and adds greater depth and breadth of food safety practices by featuring expanded sections on food defense, high-risk populations, active managerial control, and crisis management. Based on a new job task analysis revised exclusively for the Sixth Edition, the book reflects the latest updates from the 2011 Supplement to the 2009 FDA Food Code, new science-based and industry best practices and prepares students for the ServSafe Food Protection Manager Certification Exam.
Table of Contents
1: Providing Safe Food
2: The Microworld
3: Contamination and Food Allergens
4: The Safe Food Handler
5: The Flow of Food
6: Purchasing and Receiving
7: Storage
8: Preparation
9: Service
10: Food Safety Management Systems
11: Sanitary Facilities and Equipment
12: Cleaning and Sanitizing
13: Integrated Pest Management
14: Food Safety Regulation and Standards
15: Employee Food Safety Training