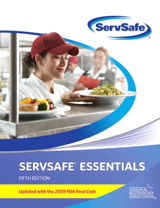 Description
ServSafe® Essentials Update with 2009 FDA Food Code, 5th edition was designed with students' needs in mind. This edition has been updated to reflect the changing needs of a diverse and expanding workforce in the foodservice and restaurant industry. A significant percentage of the updates to the book were the direct result of feedback from seasoned instructors. The streamlined delivery of food safety content in the Fifth Edition will create a learning experience that is activity-based and easily comprehended by a variety of learners. The updated book will help readers prepare for examinations, and more importantly, it will promote adherence to food safety practices in the operation. Based on a new job task analysis revised exclusively for the Fifth Edition, the book reflects the latest updates to the
2009 FDA Food Code,
new science-based and industry best practices and prepares students for the
ServSafe® Food Protection Manager Certification Exam
.
ServSafe
®
is the industry's leading food safety training and certification program, because it provides the latest information and tools for you to use every day. And ServSafe is recognized by more federal, state, and local jurisdictions than any other food safety certification. ServSafe food safety training materials and exams are available in English and other languages.
Textbooks | Online Training | Videos/DVDs | Instructor Materials | Online Exams | Paper | Employee Guides
This edition comes with the Online Exam Voucher and the book- ServSafe® Essentials Update with 2009 FDA Food Code, 5th.
Table of Contents
Unit 1: The Sanitation Challenge
Chapter 1: Providing Safe Food
Chapter 2: The Microworld
Chapter 3: Contamination, Food Allergens, and Foodborne Illness
Chapter 4: The Safe Foodhandler
Unit 2: The Flow of Food through the Operation
Chapter 5: The Flow of Food: An Introduction
Chapter 6: The Flow of Food: Purchasing, Receiving, and Storage
Chapter 7: The Flow of Food: Preparation
Chapter 8: The Flow of Food: Service
Unit 3: Food Safety Management Systems, Facilities, and Pest Management
Chapter 9: Food Safety Management Systems
Chapter 10: Sanitary Facilities and Equipment
Chapter 11: Cleaning and Sanitizing
Chapter 12: Integrated Pest Management
Chapter 13: Employee Food Safety Training
Appendix: Implementing Food Safety Practices Learned in the ServSafe Program