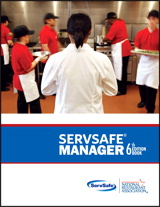 Components of the Package:
ServSafe Manager with Online Exam Voucher, 6th Edition
By National Restaurant Association
MyServSafeLab with Pearson eText -- Access Card-- for ServSafe Manager
By National Restaurant Association
Description
The new ServSafe Manager Book (formerly Essentials) Sixth Edition continues to be ideal for one- or two-day classroom instruction and certification. Based on a new job task analysis developed exclusively by industry experts for the Sixth Edition, the book focuses more intently on the preventative measures to keep food safe. The end result is content that is more focused, leading to stronger food safety practices and a better trained workforce.
Table of Contents
1: Providing Safe Food
2: Forms of Contamination
3: The Safe Food Handler
4: The Flow of Food
5: Purchasing, Receiving, and Storage
6: Preparation
7: Service
8: Food Safety Management Systems
9: Managing Facilities
10: Cleaning and Sanitizing
Purchase Info
ISBN-10: 0-13-307784-5
ISBN-13: 978-0-13-307784-1
Format: ValuePack
$109.96
We're temporarily out of stock, but order now and we'll send it to you later.
Back Order